What Death Sees
May 6, 2012
Death sees the most beautiful things that are.

Sacrifice, love, hurt, pain. All of them are his. The tragedy of a life that should have been, cut short by a distorted moment in which everything goes wrong but no one knows it. When tolerance for abuse snaps, suddenly like a quick chop from the scissors of fate, but instead of threads, wrists are slashed and futures stained red. A stain you can't scrub out, not with a thousand years or a thousand drops of bleach and a rag imbibed with the sweat of living people's sorrow. Sorrow that bites the ones who are at fault, but gnaws and chews at the ones who never did anything wrong, who in fact did everything right. Grief, silent or blaring, tears in an insubstantial skin that no amount of time can heal.

Death sees the most horrible things that are.

Waste, loss, oblivion. They also are his. The River Styx of dreams that never were, lives without glory, lives derailed with disappointment and regret. When the what-ifs circle a dying mind and leave no room for peace. Like the ringing of discordant notes, almost too high to hear, just low enough to rip and cut down to the bone, down to the soul. When there is no one to weep, the silence, the apathy, the obscurity, is all the worse. The world turns, and no one stops to blink, no one looks back at Death as he carries away the broken hopes, dashed to pieces by unbreaking monotony, of downtrodden life finally, almost mercifully, ended.

I would give a life to see the world through his eyes.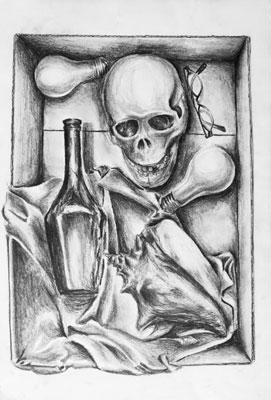 © Karen S., Norwalk, CT