Full Wounds
May 22, 2012
"Shoot me." I glared at him, my voice solid and strong and ready. "Go ahead," I whispered, my green eyes not blinking. My eyes were hard not to notice. At least that's what Paz always said. It was because of my eyeliner. I smudged it in with my fingers.
'Cause I could.
Because I liked it.
People didn't seem to get that, and they sure as he** didn't respect that.
Paz wavered beside me. I loved him in that second, with his faded, gray tee. His sloppy black hair. His too-big-for-me jeans that he always had to keep pulling up. The look on his face, showing regret in what he was about to do.
And then he smiled, and I knew what he planned.
"Paz! You can't-" I started, but it was too late. He already threw the grenade in the air, killing us both in our final round.
"There," he said, smugly. "We die together."
I threw my controller at him, because he never just let me lose. Then again, nobody ever lost with Paz.
I turned the game console off just in time to hear the oven beeping.
"Yesss!" we both shouted, as if we were still elementary students who just got an extended recess. Life was recess for us that summer.
I swear, I even fist pumped.
Jumping from my place on Paz's floor, I flew down the stairs, and he followed me from his bed down to the kitchen.
"Yes, Case. Run to the kitchen where a woman belongs!" he joked.
I turned around and flipped him the bird with a smile on my face, because that was back when I actually grinned.
The good ol' days, right?
Back when my best friend was still with me.
Now he's gone. The bas****.

----

"And Casey, how does him leaving make you feel?"
I grit my teeth. "How the f*** do you think, Angela? Like s***. Like a fat guy's pile of s*** on blacktop in the summer. Like maybe I'm melting, and repulsive, and the level of my anger or depression in a day is judged on how many people step on me."
She raises her eyebrows, obviously not expecting what comes with a girl like me. But what is 'a girl like me', anyway?
Angela is the result of rich parents with a f***ed up kid.
F***ed up child being me, rich parents being my b****y mother and all business step-dad.
"Um...uh, well, I'm glad to see you're opening up to me, Casey."
Yes, she just said my name again. My full name, which therapists should know I hate, because it just angers me further. But they don't. And they just keep. saying. "Casey."
Who the he** is this Casey they keep calling me? I am no Casey.
I look at her with my tired eyes, not only eyeliner covered, but now with bags! A great deal. More people should have insomnia.
"Oh! The time. It's ten seconds after you were supposed to leave, and I know this and acknowledge it because I am one freaky, freaky lady who should see a therapist herself," Angela doesn't really say. What she actually says is, "Well, Casey, it's about time for you to leave. I'll see you tomorrow. Try to smile, Casey. Try to laugh. Try to live."
I'm the one who noticed that it was not only 'about time for me to leave', but now eighteen seconds past time for me to leave.
So there you go.

----

"Hey, Case! How's high school treating you so far?" he asked me.
"Paz..." I smiled. "We haven't even walked through the front doors yet."
"Yeah, well, we're freshmen, baby! I'm already excited for stupid teenager things we'll get ourselves into. You, me, anyone you meet today, we're gonna get smashed. Tonight. My place."
"Booyah," I nodded. "Sounds like the perfect stupid teenager thing to do our first day of the next four years of our lives."
The beginning of ninth grade was easy. I drifted through my classes like I belonged there, as did the rest of my classmates. We were a school of fish, swimming in our ocean, learning the ropes.
One rule, for example, was don't get in the way of upper classmen. This girl who thought she was the sharpest b**** in the universe of Woodsville High made fun of how I looked right after second period. She was a junior, pretty in pink, popping cliche bubble gum and chewing like a camel. I was this freaky freshman that looked like a punk. Because I was a punk. Because I still am a punk. Rock on.
High heels clicked against the floor.
"Goth," was the only thing she spat my way.
But, you see, I couldn't let her get away with that. Trying to insult and embarrass me. So I shoved her into the wall. I know, I know, violence is never the answer, but why don't you tell her boyfriend that? After the tiniest yelp from his bimbo, that boy had me in a locker like -that-. I was angry, but still in a good mood.
I was going to go to Paz's later! I should've been used to hanging out with him, and I was, but the excitement never left. Ever since sixth grade, we had been best friends. Best. Friends.
Paz. The only friend who can make a girl smile while she's trapped inside a locker.
Eventually, some peer named Grace heard me banging in my prison and allowed me to run to third period, already earning myself a tardy.
Paz was proud when I told him that night. Neither one of us brought anybody else, despite his offer.
We were ready for anything that came our way in life. At least, that's what we thought. At least, that's what we toasted to. "This drink, this night, FOR NARNIA!!!" he screamed. "Nah, for everything rushing at us. We'll handle it all, won't we, Case?" I grinned and raised my glass.
"All of it."
We weren't quite ready for the alcohol, but that didn't stop us from drinking it.
We had fun. I broke a toe jumping from couch to couch across his living room. It hit the corner of one of the obstacles we stupidly placed between the sofas.
Worth it, though. I laughed it off, but Paz, even drunk, looked up on the Internet how to fix a broken pinky. Paz, even drunk, taped my toes together.
Paz, even drunk, was the best guy I'll ever know.
So worth it.

----

I walk out the doors of my stupid therapy session and ignore my step-dad's rule to "Come straight home, young lady."
Why go home?
What's the point?
I know what you're thinking.
No, really.
I do.
One guy that was in my life is gone. Yeah, my best friend, but I have other friends, don't I?
All I know is right now, today, in this hour, during this minute, it is ridiculously hard to imagine that I'll ever feel okay.

----

The summer before seventh grade, I got my first crush.
Haha, how adorable, yeah, f*** you.
It felt pretty real back then. It wasn't Paz, by the way.
No.
See, Paz was the one who punched Alex Commans in the face after he called me a freak.
I ran into Alex at the grocery store and said that I thought he was pretty cool. "So, do you maybe want to hang out sometime?"
He hesitated. "Casey, you're too much of a freak to even be talking to me."
I froze up. My mouth actually hung open. I walked out and sat in the car until my mom drove us home.
Then I ran all the way to Paz's house, where I told him what happened.
You see, I am not one to take insults. Paz wasn't supposed to fight any battles for me.
But he kind of walked into seventh grade scouting Alex out, winding back his arm once he was found, and then hitting him. Hard.
Alex just curled into himself and didn't fight back.
I forget why I ever liked him.
Paz then shook his hand out, walked back towards me, and bowed.
"Bam," he said, and we both walked to our home rooms.
I was mad at him for a while, but I guess it was mainly embarrassment. I was embarrassed that I had liked Alex, that I had gotten upset over him, that I hadn't punched him.
I wanted to punch him, but I was glad it wasn't me who got detention.
Actually, believe it or not, Paz didn't either. Just Alex.
Why, you may ask?
Because a bruise formed around his eye, and one of his teachers asked what happened. He didn't want to admit that someone like Paz had done that to him, so he just squeaked out, "I was in a fight."
"With who?" the teacher pushed, but like I said, Alex would never admit who, so HE got in trouble for getting punched in the face.
At least, that's what I heard, anyway.

I see Alex in the hallways sometimes, now.
He doesn't look at me.

----

Walking home from Angela's office, I do the usual few laps around the block, just to waste time. I don't want to go home, I don't want to go anywhere, so I just walk in circles. Once it starts to get dark, or my ipod starts to die, I end up heading over to the park, where I lay on the picnic table and take in the world.
I don't sit there and ponder when the sun will explode. I go there to bask in it's warmth, to let it soak me up, and wonder if it will ever burn me all the way to a crisp. I go there and dream about floating, or picture everything underwater, and I normally just go insane.
The table is hidden by trees, and it's old wood is well vandalized.
Tonight I wait. It's Monday. We all come on Mondays; the first day of the school week is never a good time.
"Hey, you have the cash for this one?"
"Who do you think I am, Jimmy? C'mon. Of course I've got the money." I sigh. We do this every time. I pay him up front, just enough to pack my pipe. He always acts as if I've forgotten, many times, to give him his cash. Which I haven't. Nor will I ever. It's not that expensive, after all.
Jimmy hands it over, his hands smudged with a little dirt and his thick blonde hair greasy.
His brown eyes are already glazed.
Kate ends up handing me her lighter, because she's the only one who lets other people touch hers. She's got the brightest red hair I've ever seen; if you only caught a glimpse, you'd swear the joint in her hand caught her head on fire.
Jimmy and Kate are the regulars. The rest of us come only occasionally.
Harper has straight blonde hair with perfect straight-across bangs, electric blue eyes, and the preppiest outfit you can buy with two hundred dollars. Her family has got the big bucks. Not just above average, like me, but so rich her dad's name is Richard. If anyone ever knew she smoked anything, or even talked to people who smoked anything, her parents would probably disown her.
Then there's Cole. He hides away in the nearest tree branch, jotting things down in a thick notebook. He's not a creeper or anything, although I guess most of us here are creepy. He's just always on the outside looking in. He never lets himself be a part of anything real, it seems. His eyes almost always look black, and his hair is pretty much the same dark shade. He's tan, probably from observing the world from a tree all day, and sometimes he smiles at me.
I don't talk to him. I don't talk to anybody, but sometimes that smile gets me through the day.

----

Smoke smoke smoke smoke smoke.
What if all I did was smoke? I watch it slither out with my breath, and then I close my eyes, willingly polluting myself.
Chill.
This picnic table is perfect for me.
Except the bugs. I'd go without these pesty insects.
There are so many bugs crawling around, lurking their way into my territory.
I'm having a hard time with myself. I'm having a hard time.
God, the way my mom shouts with "f***ing" in her sentences. Like, "Look at your f***ing self."
"Listen to your f***ing self."
"If only I had a f***ing tape-recorder."
Ugh, these bugs are so close to me, I'm sure they're all over, maybe making their way through my insides.
I guess I deserve to be walked on.
I don't know.
"Show some f***ing respect."

---

"Casey, are you listening to me?" If she asks another stupid question I am going to walk out. Watch me.
"Did you hear me at all? Are you asking for a trip to the principle's?"
I look up. "Miss Whitman, if someone is asking you a question, they generally use words. Maybe sign language, or possibly some form of code. I, in no way, have asked you anything yet. But, sure. Can I go to the principle's office?"
My parents call this 'acting out' or 'seeking attention'. I call it 'tired of the same stupid phrases every teacher says when a student happens to be spacing out.'
It's not like I want another lecture from any adult who is not only condescending, but also proud of just simply being older than me. Yeah, I'm a stupid teenager, but I'm a pretty great bullsh***r.
Miss Whitman sighs.
Since I literally asked for it, there's no way I'm getting it now.
She proceeds her lesson.
I proceed not listening.
I'll get an A anyway. Not because I'm some genius, but because she's done this lesson before, and I listened to some of it the first time. I also take school books home, including this science one. School sucks, but I won't let me ruin my life. Plus, I guess I've got to do something.
Class. Locker. Class. Locker. Start to walk to class. Back to locker. Class. Locker. Lunch.
Locker. Another class, another class, another class, et cetera.
Repeat.
Repeat.
Repeat.

---

Paz was more enthusiastic for school than I ever was. He had the whole "Let's learn stuff!" attitude, and I like to learn things, it's just I like to learn other things. How fast grass grows, for example.
How many times you shed your skin a year. (Three, by the way. No thanks to class. Or the other class(es).)
Why does Cole always watch?
Wait, why do I always watch?
What does Cole write in that notebook of his?
I wonder what my teachers really think of me, and why did MY best friend have to die?
Paz wanted to learn anything, almost. Some days he'd let his hair hang in his eyes, he'd lay in bed, a perfect frown, act like he didn't give a damn about anything in the world, and then he'd say, "Did you know that Woody Harrellson didn't actually eat real twinkies in the movie Zombieland? I read somewhere that he's a vegan, and they made artificial twinkies so they could get a shot of his twinkie-obsessed character stuffing one into his mouth. Makes me kind of want the kind he ate, just because."
I had slapped him on the stomach that time, said, "You don't need ANY kind of twinkie," even though he was always a stick, just so I'd hear him laugh. At least a little.

---

The summer he died, my family went out on the lake for July 4th. As usual, like any part of my life was the same as it had been. Like after two weeks, I'd be okay to go celebrate Independence Day on a f***ing boat with my family who always ended up drunk, but would only let me have a few sips, max. If I was going boating two f***ing weeks after my best friend died, I wanted to be smashed.
Actually, I just didn't want to be anything.
But we were on the lake.
Before the boat lurched forward, I sat and looked out onto the water, listening to my family whistle. I wasn't really listening to them, though.
I wasn't listening to anything.
The sun had gone down, but the moon still had a few minutes to rise over green hills, and the water was
still.
It looked like I could've wrapped myself in that water, bundled up and slept on the surface of that lake until summer was over.
Like the surface wouldn't break.
As if it were warm and soft and safe to fall into.
As if it would hold me up, and who needs to breathe?
Once my uncle pulled the lever, though, and pressed some button to crank the boat out of a stop, the water only looked like something to drown in.

---

Two years ago, I went to the beach with Paz and his mom. She was something, his mom. Bright green eyes that were always positive and ready for the world. She would look at you as if you were a prize. Of course, no one is perfect, and Paz needed to get away from his house sometimes, when she would be vacuuming the kitchen, screaming and screaming and screaming.
But in the sand, somewhere new and exciting, Vander Pazzazoni's mother was glorious. She looked like she belonged out there; she blended with the waters that stretched to the ends of the earth.
At sunset one night, Mrs.Pazzazoni led us to the shore, sat down, and demanded we danced for her. She laughed at our shocked expressions, and then jumped up, twirled around, and plopped back onto the ground.
It was at that moment I promised myself I'd never grow up.
Life would never revolve around money, and I would always dance through life.
Paz had this huge grin on his face as he lowered his head and offered his hand to me. I pretended I was the curtsy type, and stuck my palm in his.
Then we danced.

---

My step-dad sighs.
I think that's all he does.
"Casey, do you KNOW what time it is?"
I purse my lips. "Actually, no, thanks. What's the time?"
He shakes his head and sticks his hands in the pockets of an ugly red and gold robe.
"It's 2 A.M., Casey. 2. Your mother has been worried sick about you."
Yeah, then, where is she?
"You've got school tomorrow."
Oh, yes. School. That he** I take classes in, where my eyebrows are singed just by walking through the doors.
"Do you want to go anywhere with your life?"
I close my eyes and walk past him sitting in his robe in his chair in his living room in his house in his yard bought with his money that my mom married him for.
Maybe she loved him.
Maybe it was a LONG time ago.
He sighs. Again. A long one. Forever.
"Goodnight, Dave," I say, partly because it's way past a good night and I want to annoy him, but also because I suppose he really is trying to help, and maybe he won't catch the tone of my voice.
He snorts.
Oh well.
"Yeah. G'night," he replies.

---

I put my headphones on as I walk to school in a band t-shirt, black jeans, and Vans sneakers. A large dark sweatshirt on - it's fall, after-all - and a red lollipop in my mouth.
Guitar strings, I think my heart is acoustic. Bleeding the truth.
I had a dream last night that somebody died. I didn't know him. I was walking out of school, not really with a destination, and a boy in front of me just stepped out into traffic. In my dream, I saw a kid commit suicide.
Bam. Flash. Zoom.
Gone with a bang.
Scream, guitar. Scream at me.

---

I dyed my hair blue. A lot of people have asked about it.
"Did you dye your hair?"
I pretended I just noticed the unnatural color of the dead skin cells growing out of my head. "Oh....Oh my god!" I'd say, in shock, clumping bits of it in my hands. "When the he** did this happen? What the....holy s***, it's blue!"
They've all walked away, unamused.
It's a nice shade of blue, not the obnoxious kind. I didn't bleach it or anything, just put the color in.
It's like midnight.
Paz would have loved it.

---

It was towards the end of our year as Freshmen.
Paz told me goodbye after eighth period, still laughing at the joke I had just told him. He said, "I'll see you tomorrow."
I didn't think...
I didn't think that wouldn't be true.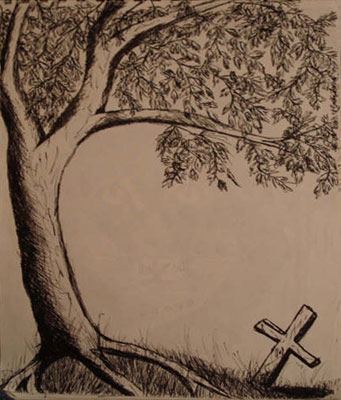 © Courtney K., Bethel Park, PA