A story about Jack
May 15, 2012
Jack is a skinny man in his mid twenties who walks the sidewalks of the college campus. He asks to borrow money - grim faced, knowing he will not be able to pay them back. He carries a backpack everywhere he goes and wears the same old blue jeans and red sweatshirt every day. A few of nights ago I saw him sitting on a bench by the pond outside my dorm. He slouched there with a lamp post gleaming down upon him. Hours passed as he sat frozen like a statue. The sun came up and I gave a look outside my dorm window. Jack wasn't there.

My friends tell me Jack showed up on campus two months ago. Still wearing those blue jeans and red sweatshirt. They had lent him money and watched him immediately go to the nearest food store. Jack is talkative, pleasant, and well mannered. Always says his "thanks you"s.

It wasn't until last night I saw him again on the bench beside the lamp post. A campus security guard walked up to the bench and sat down next to him. They talked for ten minutes. Jack ran his fingers through his hair as he nodded to the guard. He patted Jack on the back and walked away. Jack crouched over and cradled his head in his hands.

As the guard walked away, I grabbed my sweatshirt and left y dorm room. I sprang out my door hoping Jack was sitting on his bench. As I ran to the bench I saw the broken man still cradling his head. His clothes were smeared with mud, had raggedy holes, and smelt of filth. I take off my sweatshirt and offer it to him. He looks up at me with eyes of uncertainty and grabs the sweatshirt with his cold, withered hands. He smiles at me and gives a raspy thanks.

I plopped down right nest to Jack. I attempted a conversation but Jack kept quiet the rest of the night. I settled myself on the bench and slowly dozed off. My eyes shot open as the sun woke me up. I twirled around to see if Jack was around. Nothing. Nada. Zilch. I have a feeling I won't be seeing him on this bench any time soon.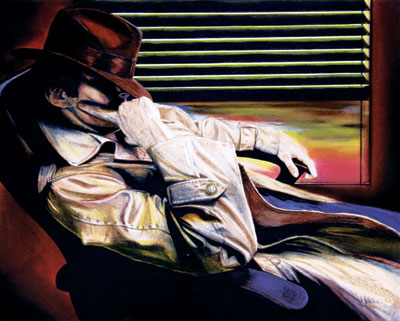 © Mick G., Bellevue, NE