Lost in the Galaxies
May 14, 2012
The water boiled and so did the tears behind his eyes. But that's what he was trying to fix. Armed with a mug of tea and depressing music, he walked upstairs and found the ladder that was his gateway to simple bliss. He dragged it outside and placed it against the wall that faced his backyard; it was just enough, like always. Rung by rung, step by step, he climbed and climbed, daring not to look down as he rose higher, but choosing to look above towards his reward. Towards his haven.

And at long last, he reached this haven: the roof. The sun was beginning to set, resting on the peak of the faraway mountains. Similarly, he let his tea and iPod sit upon one of the shingles and searched for a familiar plastic bag with a large, blue blanket within. It was moments before the blanket was laid out and he was seated. The roof wasn't comfortable, but at least he could lie down and stare at the stars or the lights in the distance. Today, the dusky sky caught his interest, and all there was to do was look up and wonder at the spectacle that was space.

It was underneath this pre-night sky that he promised himself that he wouldn't leave until either he no longer felt the pain in his heart or a shooting star flew across the sky. And so, time passed. At first, mere minutes. But the minutes quickly transformed into hours, and no matter how long he stared at the stars, his heart continued to ache and the comets avoided his gaze. The sun descended from its place of reprieve, and his tea ceased to emit its steam.

Nearing midnight, a plane and it's flashing lights flew across, and the boy almost leapt from the roof in excitement. It was no shooting star. It didn't even qualify as an object of space. But it was bright and beautiful and its path along the sky was reminiscent of any other space rock. Most importantly, it was enough.

He left his haven with a lighter heart and an optimism that seemed impossible only hours before. His bed awaited him.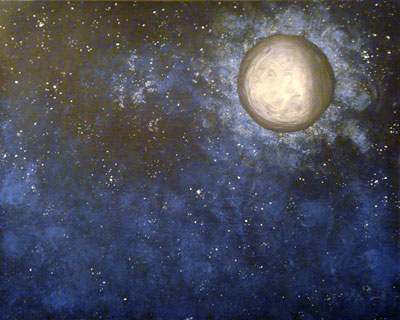 © Allison H., Vancouver, WA