Truthful Caricature
May 13, 2012
A plume of perfume heralded the old woman as she ducked through the flap of my tent. I lifted a finely sharpened pencil between slender fingers in a welcoming gesture, and the woman settled herself on the yellow-striped wicker chair in front of my easel. She dropped a dollar fifty on the table, one coin at a time, her plump lips pinched the whole time. "Draw me."

I observed, my eyes a filter in the world's fish tank, selecting the traits of my customers that defined them: one man's pointed ears, one girl's missing front teeth…this woman's mask of rouge, teal eye shadow, and powder that couldn't quite cover the stretch lines left around the edges of her face by the last operation. What does she want? I thought, struggling to interpret the emotions distorted by the countless alterations to the woman's facial structure.

The woman was ugly—I could not contest this, even when seeing through my filter. I wondered how I was supposed to characterize such vanity that had caused the woman to stretch so far from herself. Silence stood between us as I dragged the pencil down the smooth paper, forming an outline of the woman's stuffed cheeks and spaghetti neck. The woman, a perfect model, waited without shifting a muscle. I hid a frown, realizing that she couldn't change her expression. From outside of the tent, muffled laughter of children content to admire the beauty of the beach danced around the boardwalk.

I placed the final stroke without a flourish, hand dropping limply to my lap. We stood, and I offered my condolences with the drawing. The colors were too vivid, the face distended. The miniscule body below showed a wrinkled, spotted hand holding a pocket mirror, which I thought would escape the notice of the woman.

The woman took the drawing between her fingers like a wet leaf, examining it with an expression that could have been disdain or pleasure. After a moment, she creased the portrait neatly down the middle, hiding it within the fold. She dropped one more quarter in my jar then departed in a flowery haze, her lesson already forgotten.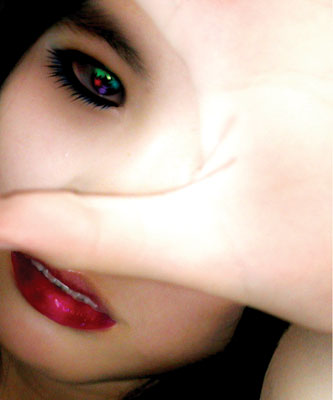 © Victoria W., Arcadia, CA