Fifteen
May 11, 2012
One birthday I'll always remember is the year I turned 15. In my family, we never do much on birthdays. When I told my friend this, she was shocked, and she suggested I come over to her house on my birthday.

So the next day, one of my parents dropped me off. As I was walking up the stairs to the porch, I noticed a colorful arrangement of sticky notes on her front door that read "BIRTHDAY!" I walked into her house and saw that it was fully decorated in green and pink papers. They all said things relating to the fact that it was my 15th birthday.

We sat and watched TV, and chatted it up for hours. At dinner time, her mom made stir fry, but only after making sure it was something I liked to eat. Then, after dinner, her mom brought out a little birthday cheesecake. It was four different flavors and topped with candles. Before I was allowed to blow out the candles, they made me listen to them sing "Happy Birthday" This was such a new experience for me I sat there and realized that no one had ever done it for me.

My family had never bought me my favorite type of cake, put candles on it, and brought it to me while singing a traditional birthday song. My family, who I'd been with for 15 years, to the day, wouldn't do this, but my friend and her mother so easily would. The way they did it, like it was no problem at all, just something that should almost be expected, also shocked me. I'm not a very emotional person, but when they did this for me I got a little choked up. Of course I didn't show that. I just smiled and said, "Aw! Thank you guys!"

After this, we ate our cheesecake and talked and laughed casually. Soon we left to go to the movies, a movie my friend knew I wanted badly to see. On the car ride there, they gave me a present. The first part was a CD I had been wanting. The second part was coffee; it's commonly known among my friends that I love coffee. We came home that night and just had fun talking and doing other things that I like.

This friend and her mother probably don't realize how significant they made this day for me. They took a day that I did not believe would amount to much, and turned it into one of the most wonderful birthdays I'll end up remembering.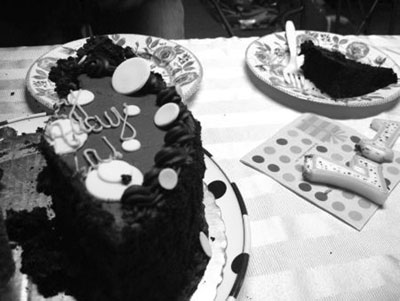 © Carolyn K., White Plains, NY