The Little Girl
May 3, 2012
Her parents never took the young girl to church
Never spoke of His name
Never read her His word
Two non-believers walking lost in this world
Took their baby with them
What a sad little girl


It was Sunday and I knew mommy and daddy was still sleeping so I quickly and quietly got dressed in my best dress and put my curly hair in my best hairband. I peeked out my room and looked into the living room. Mommy and daddy were passed out so I quietly shut my door and got my kiddie bible out its hiding place. Mommy and daddy don't take me to church they never even spoke about God. I read my favorite passage then I prayed to God like I do every Sunday to help my mommy and daddy.


Her daddy drank all day and mommy did drugs
Never wanted to play
Or give kisses and hugs
She'd watch the TV and sit there on the couch
While her mom fell asleep
And her daddy went out


I heard mommy and daddy wake up and quickly rehid my bible then took off my best outfit and put my pjs back on. I got under the covers on my bed and pretended like I was sleep. I heard the door open and knew it was mommy. Every mourning or whenever she woke up she came into my room to check on me. When she left and I heard daddy open the fridge to get his 1st drink of the day I got up and got dressed.


I did what I did everyday,play Barbies by myself. Whenever I asked mommy or daddy they always told me no,I learned not to ask. When mommy went to sleep and daddy went out to the bar i snuck into the living room and watched tv.


And the drinking and the fighting
just got worse every night
Behind their couch she'd be hiding
Oh what a sad little life
And like it always does, the bad just got worse
With every slap and every curse
Until her daddy in a drunk rage one night
Used a gun on her mom and then took his life

Daddy got home early and I quickly went behind the couch as mommy woke up. The started fighting like they do every night when daddy gets home. But this time something was different. The fighting was worse along with the violence. Daddy was really drunk I could tell. I hugged my knees in fear wishing I just tried to run to my room. I heard a gunshot and jumped. I peeked over the couch and my eyes widened in horror,daddy shot mommy! Daddy had tears running down his face then he looked at me "I'm sorry baby girl"he whispered then shot himself in the head. I slid down the couch and held my knees and cried into them.


And some people from the city took the girl far away
To a new mom and a new dad
kisses and hugs everyday


I don't know how long I stayed that way but soon some people came and picked me up. They took me far away from my mommy and daddy but they gave me a new mommy and daddy! They gave me hugs,kisses, and lots of love!I no longer had to fend for myself and they always took me to the park.My mommy and daddy believed in God and they taught me about him.

Her first day of Sunday school the teacher walked in
And a small little girl
Stared at a picture of Him


It was my first day at Sunday school and mommy picked me out a pretty outfit. She walked me to the meeting area then kissed my forehead. "Have a good day Anna I'll be here to pick you up as soon as it's over"mommy said then she left. I walked around the area then saw a familiar face on the cross. The teacher walked in and stood next to me.

She said I know that man up there on that cross
I don't know His name
But I know He got off
Cause He was there in my old house
and held me close to His side
As I hid there behind our couch
The night that my parents died

"How did He get off the cross"I asked "He never did sweetie"she answered. "Yes He did! He was there with me after daddy killed mommy! He kept me safe and sound"I said,she looked at me in amazement but I was looking at the picture. "Thank you Sir for staying with me and finding me a new mommy and daddy. I love them very much"I said with a smile on my face.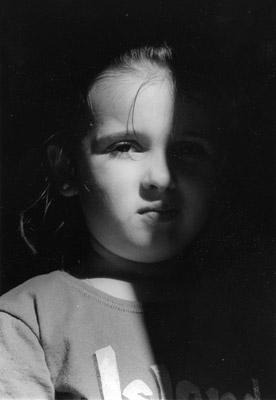 © Allison M., Westport, MA