Ending
May 3, 2012
The bright fiery sky is filled with bursts of color. The sun is a brilliant orange with red tints around the edges. The sky is the color of the blush on a lover, with dashes of dark violet—passion—scattered within the magenta hues. Behind her lies the darkness, above her, greyness. The midnight sky with its little jewels of light pushes the fire out of the sky, replacing it with its own beauty—the night.
She sits on the grey rock which has not moved for centuries. It is smooth to the touch, the cold stone feels like marble under her tender fingertips. Her silk white dress flutters around her; she looks like an angel. Her legs dangle off the edge of the boulder, her toes barely touching the soft white sand beneath it. A soft breeze, from the great ocean that lies in front of her, blows a strand of hair from her face, and rustles the sea of dune grass behind her.
An angry gust of wind somewhere far out in the ocean brought a violent wave onto shore. It crashes with a great sound that resonates with the fire inside of her heart. But soon, it fizzles out, and the violent wave turns to harmless foam floating in the surf. The rush of the ocean continues despite having lost its greatest wave.
The sun disappears over the horizon—beneath the water—and in its wake, it leaves a rosy glow of pink and purple that lasts another hour. All the while, the yellow moon slowly rises from behind the dune grass to join the pin pricks of light in the darkening sky.
She runs her hands through her windswept hair and closes her green eyes. A small, peaceful smile forms on her face in this beautiful place. The sun sets and the ocean continues to sing its song. The starry sky winks and twinkles at her with the promise of knowledge, and she falls asleep, knowing that she will wake tomorrow.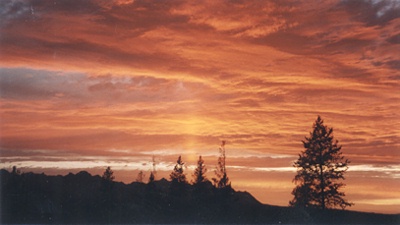 © Katy B., Challis, ID