White Plates
May 9, 2012
Dinner was always an ordeal. For as long as my memories can reach back, I've been eating from the same white plates and bowls. They come in an assortment of sizes and shapes, but not a single one of them is adorned with the overused flowery design or butterfly. Funny though: to everyone else, all that seems to matter is what's on top of the plate, as opposed to the plate itself.

Whenever I'd go eat someplace else, I'd always be met with neat, little bento boxes and excessively decorated ceramics that caught my fancy. I'd end up imagining eating the patterns upon the plates, ignoring the food and picking at the drawings with my fork. The vines could be like noodle strands and the flowers always "tasted" better than they smelled. The world of foreign plates was occasionally delicious and forever intriguing.

Meanwhile, the plates back home continued to feed me monotony. After sixteen or so years, the paint on the edges began to chip off, and there was a silent pride present in the veteran plates. The white gave way to a dark gray underneath, and mother finally considered buying new plates. Fresh plates, maybe with new designs to eat and stare at. We threw out the oldies, and they crashed and clanged with each other in the depths of our trash can. Some cracked, other's shattered.

They were far more beautiful, broken apart and left to the trash men on Monday mornings.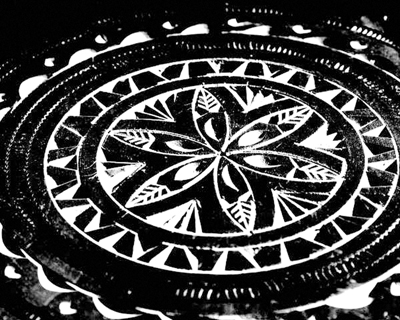 © Micha C., Toronto, ON, Canada