A Case of Trouble
May 4, 2012
They glared at me as I walked back through the scorching Dallas heat. It wasn't like had meant to do it, but they didn't care. The onlookers could've killed with their very eyes, but I think I'm getting ahead of myself here.

It was the spring of 1954. Daisies and tulips were radiantly displaying themselves in the sun and pear blossoms were blowing in the wind. As I drove along the gray, worn-down road toward town when the announcer came on the radio:
"Good morning Dallas!" He said in an excited, yet somewhat dragging tone. "The trial of Matthew Wellington continues to drag on. The prosecution has made a strong case, but defense attorney Gavin Edge continues to insist that his client is innocent of all charges. However, with the evidence stacking up it would appear---"
I sighed and turned the radio off.
"Another day of putting up with this." I mumbled to myself and continued to drive towards downtown.
I threw on my jacket and walked up the gleaming marble stairs and through the huge mahogany doors of the courthouse.
If I lose another case, what will my wife think? I wondered to myself. If Matt gets convicted…. then he gets the death penalty….
I sighed heavily and walked into the courtroom. A few moments later old Judge Gentry entered and we were all seated. He scratched at his short, gray beard. It was easy to tell he didn't want to be here, but in all fairness, neither did I.
"The Defense calls Mr. Matthew Wellington to the stand, Your Honor." I said.
"Please state your name, age, and occupation for the court."
"Matthew Wellington, 22, Student."
"Mr. Wallington, please explain the events that took place on July 19th, 1953."
"Yes sir. I was on my way back from Perry Park at around 8PM that night. I was walking downtown towards the University when I heard two loud gunshots ring out from Parker's Place where my friend, Jasper, works – erm – worked as a cook. Earlier that day, I had eaten there and hung out with Jasper, and he showed me into the kitchen, telling me how the owner, Greg, had been complaining about the debt that the business was in—"
"Objection," Prosecutor Steele yelled, "those details are irrelevant. Your honor, the witness needs to give a relevant account of the murder."
"Sustained," the Judge said indifferently.
"Right….. Well, as I said, two gunshots were fired from Parker's Place. The blinds were down at the time, because the restaurant was closed, so I didn't see anything…"
"How convenient," someone in the audience mumbled.
"Then, the door flung open, smacked me in the face, and knocked me out cold. When I woke up, the cops were everywhere and I was being arrested! I found out that the gun had been planted on me and my friend Jasper had been shot! Tell me, what motivation would I have to kill my best friend…."
***

My best friend, my son was lying in the hospital fighting that dreadful disease; fighting with everything he had him. 'Daddy,' he calls me, never 'Mr. Edge,' after all, why would he call me 'Mr. Edge?...
***

"MR. EDGE!," the judge shouted emphatically. It seemed as though he had awakened from his dazedness.

"Um – uh – sir?" I say, stumbling over my words.

The judge sighs. "Do you have any questions for your witness, Mr. Edge?"

"No, your honor. The Defense rests." It seemed like a good, solid testimony, I thought to myself. But I didn't have any idea what Matthew was about to get himself into.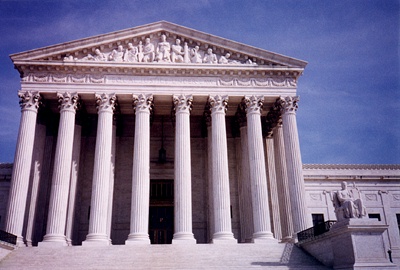 © Whitney K., Milford, CT