Purple Crayon
April 27, 2012
"Mommy? What if the plane crashes?" "It won't, Emily." Sarah sighs in frustration. Still trying to settle into the plane after a hectic morning she now has hundreds of questions to contend with. An old lady across the aisle smiles. "Is it her first time flying?" Sarah smile apologetically as she tries to cram a bag into the overhead compartment. "Is is really noticeable?" "Not at all. I'm Barbara, and this is my husband, Charles." Sarah holds out one hand as she balances the bag half inside the compartment. "Sarah. This is my daughter, Emily." Emily looks away from the window and gives a toothless smile. "I'm thwee!" The old couple laughs as Sarah finally crams the bag into the compartment and settles into her seat. "Mommy look! We're on top of the ocean!" Sarah nods absently. Emily is occupied for enough time for at least a little nap, right?

An insistent tugging on her arm pulls Sarah from her sleep. "What Emily?" Sarah rubs at her eyes while Emily points excitedly out the window. "Is that how they make clouds, mommy?" Sarah glances out the window to see clouds of smoke rolling off the wing of the plane. The old couple leans forward to see what Emily is talking about. Barbara looks at Sarah, who reaches above her head and presses the assistance button. "No Emily. That's not how they make clouds."

"It's nothing to worry about." "You will arrive safely" "It happens all the time." Flight attendants flutter among the tan, leather seats with smiles plastered onto their faces as they try to calm the frantic passengers. Gradually all the noise dies down. Emily begins to color in a notebook with her crayons, mainly the purple, her favorite. Suddenly the crayons clatter to the floor and scatter as the plane lurches to the side.

Emily looks up at her mother with big eyes, clutching the purple crayon to her chest. "Mommy? Are we gonna crash?" "Of course not Emily. That's silly." Even as she speaks the plane begins to slowly twirl through the air. The plane breaks out in chaos as people worry about the worst. If she did not have Emily, Sarah would be one of them. A ding sounds as the speakers throughout the plane are turned on. "This is your pilot speaking." Everybody sighs in relief, waiting for him to reassure them all that everything is fine. "The plane is having some difficulties." Emily bounces on her seat as she looks out the window. "I'm sorry to tell you, but we are going to crash." Emily looks up to Sarah. "Told you mommy," then looks out the window again. "Please say goodbye to your family."

The plane is silent. Nobody is capable of speaking. Emily tilts her head towards her mother and whispers, "Mommy? Are we going to die?" Sarah looks at her daughter and for the first time in her life has no words to say. Looking at her daughter her blood freezes. Her stomach twists into knots and a lump blocks her throat as tears threaten to spill. She takes the hand of her only child, and holds tight. Her daughter, who had always trusted her mother to fix everything needs her now. As the plane spins faster Sarah know that she cannot do anything to save her. So she holds her hand instead. A last effort to comfort her. Sarah thinks of her daughter and tears fill her eyes. Emily would never go to school, or prom. She would never be married or have kids of her own. She wouldn't be able to become a teacher or stand on the moon. She would never get the chance to live. Silent tears stream down her face as the final moments of her life disappear. The plane spins faster. Faster. Faster. Sarah wraps her arms around her child. The plane makes a screaming noise. Sarah kisses her only child. The plane meets the ocean. Metal screeches against metal. Glass shatters into millions of pieces. The final prayers of the dead float up to heaven with smoke. Then everything is calm. Time stops. Until someone moves. The only survivor. A three year old girl named Emily, holding a purple crayon.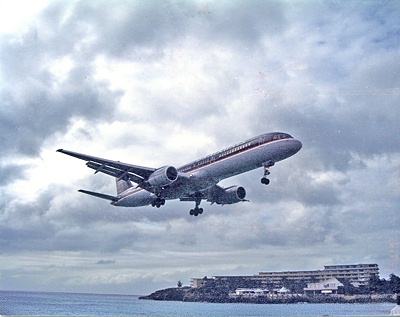 © Keith K., Milford, CT