Follow Him into the Darkness
April 25, 2012
She was terrified. The darkness blocked her vision, and she could see nothing ahead of her. At least she could see when she looked back. Behind her, she saw her past. All the happiness of her childhood. All the joy... and all the pain.

But when she looked ahead, she could see nothing. She was afraid to go forward, to take that first step into the darkness. It would be so much easier to go backwards, to ignore the darkness ahead.

She turned around and began to walk back to where the light was, back to her past. But soon, she was so deep in her own past, she didn't know how to come out.

She turned in circles, not knowing where to go. She was lost. How could she go forward if she couldn't find the way?

The she felt someone step next to her. She could not see His face. At first his presence scared her, and she wanted Him to go away. She was embarrassed that anyone would see her like this. Especially someone as big and powerful as He. But He was so gentle and loving, He eventually became comforting to her.

"Trust Me," He said. "Follow Me. I know the way." He took her hand and led her away, out of the pain of her past.

She followed him back to the darkness, and hesitated at its edge. "I can't see. I'm scared," she said. She was afraid she would fall.

He replied, "Trust Me. I will keep you safe. You may stumble here where you cannot see, but I will not let you fall." He went forward, urging her to follow. And she took one step. Then another. Following Him into the darkness, and trusting Him completely.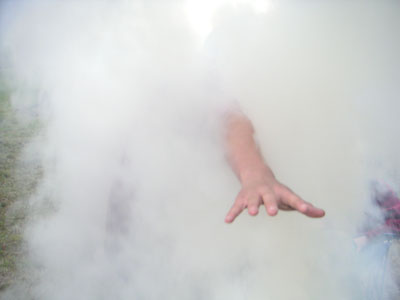 © Garrett M., Port Angeles, WA