Stronger
April 23, 2012
She watched him as he walked away, putting a fake smile on her face. She watched as her best friend boarded a plane to Afghanistan. She didn't want to see him go but she promised him that she would stay strong, and she never broke promises. This time she had to break the promise by looking away while she cried. She didn't know why she did, but she couldn't stop. She was sure she would see him again.

Now let's back it up a few years ago where it all began.
Bonnie Belle Aberdeen was 6 when her parents died. She was sent to an orphanage where she met Alec Fleming. Alec had been at the orphanage his whole life and was excited to meet her almost as if she was a shiny new toy. He instantly became friends with her.

Ok, now fast forward a couple of years, Bonnie and Alec where now 18 and ready for college. Unfortunately, Alec was not accepted to any universities so he enlisted in the Military. Bonnie, not knowing, went to college thinking he was going to a university. The year was currently 2006.

A year later Alec was all finished with his training and was now stationed at Fort Hood. This is when he decided to tell Bonnie that he had enlisted. Bonnie, unfortunately, was furious with him for not telling her but eventually she had accepted his choice.

"I'm not saying it's the best decision you've ever made, but I guess I should accept it"

"Thank you. And don't worry Bonnie Belle, no one can take me down," he said flexing his muscles. Bonnie rolled her eyes at him smiling slightly. He can be so immature sometimes, she thought.

"So, do you know if you'll have to leave anytime soon?"

"Eh… Probably not. Yeah, no I doubt it. I'm still a rookie if you know what I mean." He flashed a toothy grin at her and she couldn't help but smile back. Even though she smiled though you could still see the worry in her eyes. All she could think about was him getting hurt, and she didn't want that to happen.

Of course she was in love with him, but she didn't want to admit it to herself. He got her through thick and thin, even boyfriend problems. No matter what it was he was there to comfort her.

"Hey, Bonnie Belle! Hello? Someone in there?" He said waving a hand in front of her face. She looked up at him, interrupted from her thought.

"No, sorry what was that?" Alec shook his head and laughed at her carelessness. This girl could never carry a conversation for too long without drifting off into her own thoughts.

"I had asked if you wanted to go on a double date with me and my girlfriend on Saturday. She wants to meet you. And don't worry about your date I already have that settled. One of my buddies Eric said he was willing to go. And hey maybe you two will hit things off.

"Yeah possibly…"

After the date, Bonnie and Eric actually started dating. One year into their relationship Eric proposed to her saying that he wanted to go to Iraq a married man in case anything happened to him so his belongings could go to her and their unborn baby. Oh did I mention that she was pregnant at the time?

Their baby girl was born 4 months into Eric's deployment and 3 months after that she had gotten a call. The person had told her that her husband was killed by the Taliban after he had saved three guys from his unit, and that she would receive a bronze star in his place. Her Daughter, Chrissie, would never see her father was the only thing that raced in her mind. That was the only thing that made her cry. She wanted to cry for his death but she was stronger than that, but not strong enough to not cry over her daughter not having her father around. This broke her heart.

Now back where I started, it was currently 2009 and Bonnie and Alec where now 21, Bonnie's daughter being 1. The downside to this was that Alec was being deployed to Afghanistan, and Bonnie had already lost one important man in her life and she didn't want to lose another.

"It's alright Bonnie Belle. I will be alright" Alec whispered in her ear while giving her a one armed hug with Chrissie in her arms. Bonnie didn't want to let go of the awkward embrace. She didn't want to let go of the warmth he had, and the smell he gave off. The warmth and smell that she grew up with, ever since she was a little kid.

"I know you will be ok. I just don't want to let go. "

"You are going to have to let go eventually." He said in a slight mocking tone. She grunted and pushed him away in mild disgust. Alec smiled at her before lightly kissing her forehead like he did when she woke up from nightmares. He then did the same to Chrissie and ruffled her hair a bit.

"Bye my little princess, and you too Bonnie Belle." He said as he backed away slowly.

"Bubba," said Chrissie, not being able to say bye bye while waving her little hand. I just smiled at her and waved at him good bye. "You better not forget to write me!" I added. He just waved his hand over his shoulder nonchalantly boarding the plane. The last thing she thought was that she hoped it wasn't the last she would be seeing him.

Four years later Bonnie found herself walking through a graveyard hand in hand with five year old Chrissie. But this was no ordinary graveyard but a graveyard for fallen soldiers. She had just visited Eric's grave and was searching one other. Finally she found what she was looking for. The gravestone read:

In memory of,
Alec Blaine Fleming
A wonderful friend and Soldier


1988-2009

Bonnie smiled at the grave and set down a box in front of it that she had kept under her bed for so long. The box was filled with letters and pictures of her, Chrissie and Alec; the letters and pictures that they shared during Alec's deployment. Suddenly Chrissie let go of Bonnies had and got on her knees in front of the grave.

"Bubba?" She said lightly putting her hand on the stone. Bonnie couldn't believe that she would remember that from so many years ago especially since she was so young. She had guessed that Chrissie would call him that from then on and so she did.

Bonnie and Chrissie walked away when they were finished and Bonnie tried so hard no to cry. Even though she had gotten stronger over the past experiences, you could still see a small tear run down her face. And then she thought; I guess even the strongest people can't hold in their tears.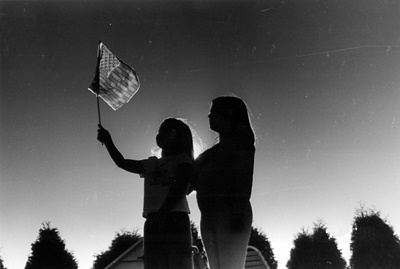 © Amanda T., Marblehead, MA