The Zoo
April 22, 2012
The car jolted to a stop; the soothing motion ripped out from underneath me. Just a second ago the engine was moving us swiftly over the road. Why did it have to stop? I wish it could go on forever- without ever stopping, without ever parking. If only the hypnotic rhythm could always remain unbroken.

I get out of the car and place one foot after another, continuing the motion. I wander through the rows of gravestones as if I am walking through a gallery, not a field full of dead people. Their stones are just frozen photographs labeled with false captions. 'Jeffery Shein, you will live forever in our hearts.' This strikes me as a complete abomination. Do they think that because he is dead, they own him or something? (Spoiler Alert! You people will be dying someday too; you're not freaking immortal.)

I am distracted from my thoughts when I see a black blob of people congregate around a small gravestone three rows to my left. Amongst the group, consisting only of about five or six, I see my uncle and a nurse that I once saw caring for my mother at the institution. I recognize nobody else. The group looks stiff, quietly watching her as everybody always has. They accepted her fear, as it took her over. They allowed her life to leave them exactly as it had left her, long before her death.

I steadily make my way over to my mother's gravestone. Artificial daisies, died bright pink and yellow, are sprinkled in front of the fresh slab of midnight granite. I feel the anger pulse through my veins. I was angry at my mother for living her life in fear, for walking on this earth as though she was already dead. Most of all, I was angry at myself for what I did.

One day, a few weeks ago, I picked my mother up from the institution so that we could have a picnic at the zoo. We listened to a few Sinatra songs on our way there, and my mother, Frank's number one fan, just sat there looking expressionless. When we arrived at the zoo, the sky was a beautiful robin's egg blue and the sun warmed the back of my neck. My mother's fragile body looked like it was made from paperclips, and her skin was about as white as a fish-belly. Her face still said nothing.

We walked through the zoo's enormous iron gates and saw every exhibit in the park. My favorite was the monkeys. My mother seemed to like the donkeys, but she refused to touch them at the petting area. When we were done, we sat under a tall willow tree. I got out two sandwiches that I had made for us, and I served her one with grapes and a pickle and everything. She didn't take one single bite. She didn't even try it. I guess something snapped deep inside my mind. I just lost it. "Mom!" I yelled, "Eat the sandwich already. They only let me see you once a month. Don't you care if you live or die?"

And with that I left the zoo. I stormed through the iron gated exit, and walked straight home. The next thing I know, it's two weeks later and I am talking the the chief psychiatrist, who is telling me in a low, careful voice about my "tragic loss." I can't help feeling that it is all my fault.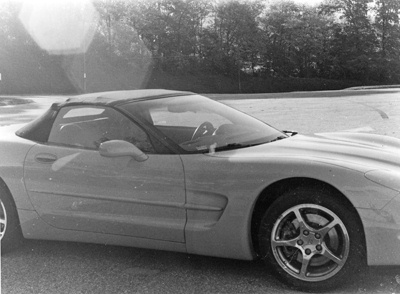 © Sylver S., Milford, CT