Courage the Cowardly Crow
April 14, 2012
My drive to school is anywhere from five to ten minutes, depending on how late I am and how much bravery I can stir in my heart and behind the wheel. I pass by everything conceivable at 6:30 in the morning, which, as we all know, is when our brains are the most active. The man on the radio tells me things I should know and things I don't need to know, but nowadays, I can hardly differentiate between the mundane and the extraordinary. The wind blows and the trees sway, while cars roll wistfully on, possessing a destination, but lacking a purpose.

Today started similarly to any other Friday morning. Fate would have it that this particular Friday would also be the thirteenth day of the month. Doomed to sadness, perhaps. I passed by the usual scenery: houses, other insomnia-inflicted teenagers and their cars, and pretty, little businesses that were just beginning to turn on their lights and prepare for the long day ahead.

It would happen that on a right turn, four or five blocks from school, I met a crow. I should say "saw," because I never really engaged in the pleasantries that come along with meeting new people. But it felt like we shared something, the crow and I. It sat courageously in the middle of the intersection, pecking away at what seemed to be food in a plastic bag. As my car and I came dangerously close, the crow didn't fly away as expected, but continued to enjoy its meal, offering a disdainful stare at my hulking automobile. I completed the turn, and sped away, not truly awake enough to care about such a foolish animal.

And it wasn't long before I was seated in period one French with the three other students that occupy our table. The day lurched along, and the crow crossed my mind from time to time, sometimes sprinting through for a few seconds, other times pacing with leisure. It was just so weird. What gave this bird such nonsensical bravery that it would stand up to over a ton of metal, plastic, and gasoline? Desperation? Sheer stupidity?

It made no sense to me

School ended and I started on my way back home, the houses a little more bright. The teenagers a little more alive. The businesses, as their name suggests, a little more busy. I stopped at the intersection where I met my new friend, the crow.

There he lay dead, run over by an ignorant driver; or was it his own courage that finished him off? Maybe being brave isn't all that great?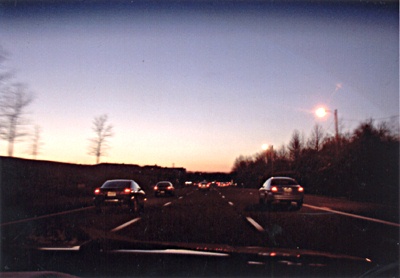 © Carolyn K., Toms River, NJ