That Night: Part 1
April 16, 2012
I feel empty. Like nothing makes it worth being here anymore.
I can't breathe without thinking about him. I miss him like crazy. He was everything to me. He is everything to me. I wish I could tell him how I feel.
But I can't.
That night changed everything. It changed me.
______
"Slow down, Tre!"
"No! The engine's not even roaring yet, babe!" he says, laughing.
The engine was roaring, he was just too drunk to realize it.
"Tre, I'm serious! We're gonna wreck, danm it!" I say. But his laugh is contagious and I can't help but enjoy the thrill of what we're doing.
I watch as trees and people walking on the sidewalk fly past us. Secretly, I'm panicing like crazy.
I didn't used to be like this, doing stupid things that could hurt other people, even kill someone. Losing Beth changed me for the worst. I know I'm not anything like the person I used to be, but I don't want to fight the rush of the things I do now.
Every kid's parents warn them not to fall into the bad things of the world. Drugs, drinking, partying, sex. But when you have nothing else to live for, it doesn't really matter anymore. You just...give in. It's easier.
As I'm thinking about the path my life has taken, I'm oblivious to the tree we're heading straight for.
And the girl standing in front of it.
______
I'm vaguely aware of the light being shined in my eyes. Someone is feeling my wrist...checking my pulse? Wait, why would my pulse need checking?
I remember the tree...and the girl.
I start panicing so they try to get me out of the car quicker.
They lift me up and I immediatly start looking around the wreckage.
I see an empty driver's seat...blood on the windsheild and tree...and a body bag.
Oh, God...
"Where's Tre?!?! Tre!" I scream.
The man carrying me is trying to calm me down, shushing me with comforting words. It's not working.
They place me on a stretcher and connect me to an oxygen mask. I fight them. I have to find Tre. I'm still fighting the men and calling for him. They try to hold me down, and I still fight.
They give me a shot before I can fight them off anymore. The last thing I remember seeing before everything went black is beautiful green eyes staring at me with worry.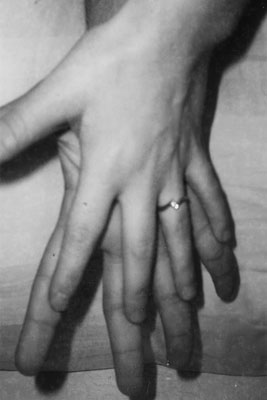 © Heather H., Phoenix, AZ