Enlisted
April 11, 2012
"I brought everyone here for a reason," I said then took in a shaky breath and pushed my glasses up my nose.

"Oh John, is Sarah pregnant?" mom asked and shot my girlfriend a nasty look.
"No mom," I said.
"Are you yourself pregnant?" my dad asked and cracked a smile.
"No. Guys this is serious," I said, getting more nervous by the minute. "Not everyone is going to agree with my decision but I decided to join the army. I've already enlisted so there's no turning back now," I said. Silence swept the room. My mother immediately went pale but my father said nothing.
"John, how could you do this? War is dangerous. You could die. Do you get that?" my mother asked in disbelief.
"I know mom but this is what I want to do. It's what's best for me right now. And when I get out they'll pay for my college. I can travel the world, get some discipline, and gain some leadership skills. And besides, the war is over now. I'll be fine," I insisted.

"How could you not talk to me about this first?" Sarah asked in a tone that said she was genuinely hurt. She stood up abruptly. " I'm your girlfriend. You're supposed to talk to me about these things first," she said and ran out of the living room. I ran after her and followed her down the dirt path to the barn.
"SARAH WAIT!" I yelled. "I'm sorry," She stopped in front of the barn and fell to her knees.
"What about the family we're supposed to have? And the two and a half kids and a house with a white picket fence," she said.
"We can still have that," I said. "But I can't provide that for you right now. I'm twenty-one and a high school drop out. I'm working at a fast food joint Sarah. How can I support a family when I can barely support myself?" I asked.
"I don't care if you can't support us, I'll support us," she said.
"Sarah I'm Leaving on Wednesday," I said and looked down. It was Monday. I had known about this for a little while now but had not wanted to tell my family or Sarah for that matter.
"You bastard," she said and smacked me. She pushed me backwards and kept throwing punches at me while tears streamed down her face.
"Sarah stop, you're taking this the wrong way," I said and grabbed hold of her wrist. "I'm doing this for us," I said.
"Let go of me," she said, wrenching her wrist away and wiping away tears. "I'm leaving," she said and ran away from me. I didn't bother following her. I needed desperately for her to understand but I knew there was no reasoning with her when she was like this. I slowly walked down the dirt path. It was dark and had started to rain. I pulled my hood up but kept walking at my slow pace.

I knew she wouldn't be happy but I hadn't expected her to freak out this badly. I was doing this so we could have a decent future together and I needed to get out of this small town. I needed to see things, explore, and become a man. I had been irresponsible as a teen. I drank, partied, smoked, and totally disregarded school. I started dating Sarah my sophomore year and she stayed with me through all the bull I put her through. I hadn't been good to her and now I wanted to be there for her the way she has been for me.I would give her the night off to cool down and think about it. She would come around. She wouldn't let me leave with her being mad at me.

Sarah never came around, she couldn't. I got a call saying that Sarah had been in an accident that killed her on impact the day before I was supposed to leave. So now I'm on the bus to basic training resting my head on the cool glass of the window, the gentle bumping up and down of the bus on the rocky road was just what I needed to calm my nerves. I was actually looking for the stress and exhaustion that basic training would provide. The physical pain would give me something to focus on, rather than the pain that I felt inside of me.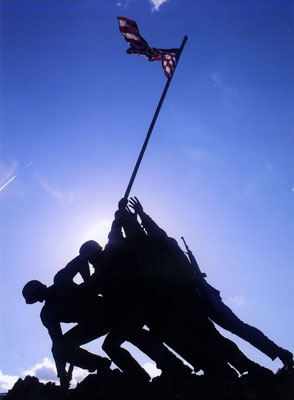 © James M., Glendale, AZ