Annie, Part 3
April 13, 2012
"So, Janice, tell me all about your mysterious past."I grin at my girlfriend from across the table, genuinely curious. I lean forward, my lanky arms resting on the table edge. I began dating Janis ten months ago and she still hasn't told me about who she is. I suspect all the usual misdemeanors - casual sex from a young age, addiction, perhaps even violence. She has always looked me in the eye and said, I will never tell you my past. But two weeks ago I declared that I loved Janice Woodruff regardless of what she had done in the past. I think I shook her up with that. Unconditional love was not a commodity for her. She takes a sip of her coffee for good measure and very slowly she walks through her history. Her birth mother's abduction and rape. How the police couldn't find any hint of where she went. Her giving birth to Janis' brother and later to her with no drugs or help in the basement of an outlying mansion. Her murder. Their surviving at ages three and four and being adopted by their birth mother's fiance, her dad, and his wife, Tessie, who she calls mom.
I sit and I hyperventilate. As she spoke my eyes widened. Not for shock at the pain for my girlfriend. For another reason. I think of Grandpa, in his huge house in the suburbs. I think of his grey beard and his sparkly eyes. I used to think he was Santa Claus. I remember that my mother did not get along with him, and that they fought a lot. But he always got me the best birthday presents and he even put up a swingset in the backyard for me. I remember the oak door that went to the basement, which was locked. He said we could not go in it because it had asbestos in the roof. When I was six Grandpa went away, and my mother told me he moved back to Scotland where we are from. I asked when we could visit and she said never. My grandfather's name was Gerry Willows. My grandfather kidnapped, raped, and murdered the birth mother of my girlfriend, who has been in pain her whole life because of him. My grandfather, biologically, is her father.
I feel sick and the blood drains from my face. I can never tell her. So in one second I decide how to end it all. I stand up and I tell Janice I can never be with someone with a past as f***** up as that, and that it's sick that she kept that from me. I tell her I think she's amazing but that I can't ever look at her and not think about what she just told me. Her eyes fill with tears, and I love her. But she cannot ever know how deeply and wrongly we are connected. So I tell her I'm sorry. I leave money for the coffee. As I walk away, I think of how many lives my grandfather has ruined. Mine has been added to the list.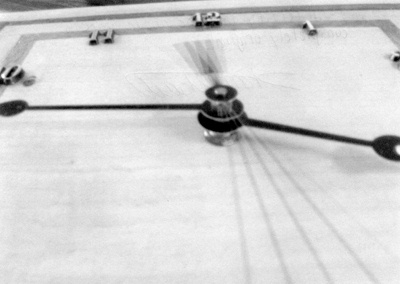 © Michael H., Milford, CT