Escape
April 13, 2012
Day retreated, soon becoming night as the bars from my prison cell began to grow all the more lonely. I lay there, covered from head to toe in the filth that surrounded me, dreaming of what the next day might bring. Dreaming of a future with someone to care for, a future of life- a future with hope.
...
The cold, hard stone floor of the dungeon felt like ice beneath my face as time passed, painfully slowly. It tore at my heart as viciously as a wolf's claws. My cheeks were numb and my feet ached- the result of my month long imprisonment. In all honesty, I was amazed that my body lasted this long, through the torture and hellishness that I have faced.
...
Life had become so trying… so difficult. It was only a month ago that I had everything a child could dream of, yet it seemed like an eternity. All I could do was stare at the abyss that surrounded my life, and all it could do was stare back. I felt so empty inside, so alone.
...
My ears began to rattle, slowly dragging my mind into a state of awareness- my bones resisted every time I moved my stricken form. My heart leapt as I realised what was happening. The rhythmic tap growing louder and louder pulsating throughout my mind confirmed it- Someone was coming!
...
Guards scrambled out of nowhere, hurriedly unlocking the door and then flanked me on all sides, not trusting me to stay put. My young hands trembled in the face of such strong opponents. I was scared, but not from the swords attached to their belts, nor the cumbersome armour that defended them- it was the hatred that consumed every ounce of their being. They serve a man who would have me killed, though I have done nothing. It is a sad truth from a time long passed, one I cannot remember. They hurl such disgusting filth at me, as if I am only a rat to them.
...
You see, my father married a noblewoman from the neighbouring town. But over the years he grew discontent with her. I am the result of one of his many dishonourable misgivings- and for that reason only- I am condemned for his sins. I was raised by my mother, a young woman who lives alone in a cottage in the forest. It was a month ago today that my father's soldiers found me.
...
Now they surround me, intent on ending my existence. What can I do but follow them? What can I do but solemnly accept my fate?
...
They then forcedly raised me by groping wildly at my arms, until I stood up straight. I had not stood up straight in a week, in fact- I had forgotten what it felt like to stand. My back sent out cries of pain as I attempted to walk with them- not willing to show any sign of weakness. If I was to die, I was to die free- not afraid of what they had to throw at me, not afraid of what they could do.
...
My feet limped over each stone leading to the foreground as if they were made of spikes. As the soldier's hands brutally clawed at me to keep me moving once I stumbled- my body came close to total collapse. It felt like everything inside me was trying to find a way out, not caring what it sent me through.
...
Somehow, I found the strength to stand upright once more as they lifted me up and sent me scurrying up the stairs towards the door. Upon reaching it, one sent me flinging back, ensuring that I had no opportunity to escape.
...
As the door opened right in front of me, my eyes were hit with a blinding light unlike anything I had seen before. They pulsed horrifically in my head, invoking yet another terrifying head-ache. I was on the edge… I did not know if I would even make it long enough to be executed? It was so futile to me, why should I have kept going when death was my reward?

Soon, my eyes adjusted and the landscape around me became apparent. I had been blind-folded when I first arrived, so I had known little of the place.

It was a square area, dominated by mud and a stone wall that helped keep the prisoners in their hands. It was one of the most depressing sights of my life, and it was to be where I would die.
...
One of the guards then grabbed me by the neck and forced me down until my head was almost in the mess- yet again sending unimaginable jolts of pain through my spine.
...
From what I could see, mist stirred in the distance, but tears distorted my view- and every time I tried to lift my head, the attempt would only be met by a sturdy mail-clad glove being slammed into the back of it.
...
As I knelt in this sticky wasteland, I heard them talking about who would do it, who the one to swing the axe would be. It only served to deepen the pit in my stomach.
...
With that final, death-defying blow to my mind, I knew it was over. But as I looked around, to my surprise- my head was still in-tact, pained, but in-tact. They were arguing quite heavily about it, they were distracted, and did not seem to notice me.
...
My mind could not think straight, and the pain that seethed through my very being prevented rational thought even further, but was this not the perfect opportunity for me to slip away,to escape?
...
Before I knew it my body had heaved itself up, and sprinted through the arch-way that led to the outside world.
...
I could hear their shouts and screams trail off into the distance as I ran further and further away from the hell, unwilling to stop,
-And I was free.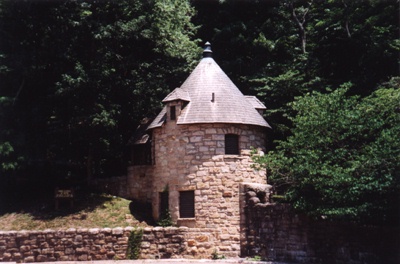 © Josh J., St Albans, WV