On the Mend
April 11, 2012
You glance up at me, your stunning ocean blue eyes full to the brim with hurt so deep and true that it sends pain shooting through me. I break our gaze, blinking away the hot tears that threaten to spill onto my cheeks. Yet, I can still see you staring into my very core, confused and broken, your image blurred by my tears. Unbearably, I know I have hurt you, and that in itself shatters me into a million pieces. As I gaze out the window, the city lights below me blur together, their colors blending against the dark sky. Even though I thought words would never come to either of us, you break the silence with one whispered, dreaded word.

"Why."

It escapes your lips as a statement, dripping with too many emotions for one syllable to hold. I knew this would come, but now as the moment unfolds, I can't speak. There's no way I can put into understandable words how I feel. A thousand reasons I have for this, and yet, at the same time, impossibly, none at all. I wish I could explain myself; I can already feel you blaming yourself for reasons that don't exist.

"I–" My throat is too dry, my response comes out choked and hoarse. I have nothing to say, anyway....what could I possibly say to you? I've already torn myself apart over ending it with you. God, why am I such a mess? It would be so much easier to say what I need to say, break it off, and move on. Why do I have to drag out the agony?

"Hayley," you say sharply, as I stare miserably at the floor. "I need you to tell me why you're doing this. Is it because of them? You're scared they'll keep making fun of us? Or is it about me?"

Finally, I bring my eyes up to meet yours, tears rolling quietly down my face. "I'm not like you, Soph," I choke out. "They–it hurts when they say things, I can't brush it off like you do. I'm not strong like you."

Your piercing eyes never leave mine, your gaze so intense I fight the urge to look away. "Is that what you think?" you whisper. "You think it doesn't hurt me, what people say? Of course it does, but I love you as much as I hate them. That's why I pretend not to care what everybody thinks, because I want them to know–and you–that I love you."

My stomach twists with a sudden ache. I look away, feeling low and despicable. How did I ever deserve you? Hesitantly, I glance up and see you, unmoving, your beautiful, pained eyes locked on mine, and I can't help it, I can't. I let out a sob and fall into your arms.

How good it feels, how safe, to be wrapped in your arms again, your soothing voice in my ear, your sweet-smelling hair all around me. As you hold me, it appears to me how horrible it would be to leave you, for both of us. Where would it leave us? You, confused, hurt, and betrayed, and I, shallow, cruel, and heartbroken.

For a few moments, all I can do is cry into your shoulder, but eventually, I manage to speak. "I'm so sorry," I sniffle. "I–I love you, I do. And I want to stay with you. But I can't stand the way people look at us, I know I'm being stupid–"

"Shh, babe, it's okay," you soothe, pulling back a little to look at me. "You are not stupid. I know it's hard for you to deal with it, it's hard for me too. But as long as we love each other, it shouldn't matter people say. Right?"

I nod and bury my face in your shoulder again. "I feel terrible for even thinking about...I mean...it was stupid..." My voice trails off. I know you understand, I don't have to explain.

We sit in silence for a while, our arms wrapped around each other, the only sounds our soft breathing. I find your hand and lace my fingers with yours. "I'm sorry," I whisper.

"Don't, it's not your fault," you reply firmly. Suddenly you sit up. "I need to show you something," you say, and you leave me alone in your bedroom, hurrying down the hall. "I'll be right back," you call over your shoulder.

In a few minutes you return, holding something that looks like a picture. Sitting beside me on your bed, you hold it up and explain, "Remember that day when we were at Lauren's house, in her backyard, and with her and Matt and Kayla? And she was taking pictures of everything? Well, Lauren took this picture and gave it to me, she loved it so much. I–I wanted you to see it."

Carefully, I take the picture and study it. In the photograph, you and I are lying on the grass next to each other, eyes closed. We're sharing the earbuds of your iPod, and although I remember both of us falling asleep at the time, there are little smiles on both of our faces. It strikes me how different we look: me, with my spiked black hair, wrinkled gray Led Zeppelin t-shirt, and jeans; you, with your lacy white sundress, the tan of a goddess, and your long blonde hair shining gold in the orangey late-afternoon sun.

But the thing that catches my attention is our hands. Our fingers are intertwined as we sleep, connecting us, our dreams finding each other and blending as one.

"This is us, Hayley," you say, your voice breaking. "We don't need anyone, anything...don't you see? We're happy, in love...nothing can break us. Nobody can change it...we have everything we could want."

Both girls in the picture keep smiling peacefully as tears prick my own eyes. I take your hand gently, and re-wind your fingers with mine, the same way as in the picture.



And this time, I'm never letting go.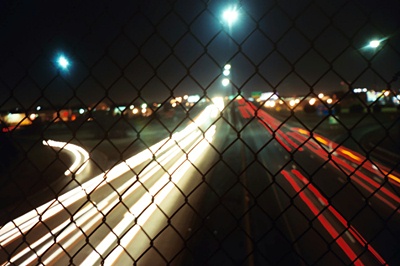 © Jordan L., Wichita, KS