Time to Leave
April 11, 2012
It was time for me to leave. I had stayed too long here and it was killing me. The pain of seeing his face like that when I left was ingrained in my soul forever. I loved him with all of my heart. I love you. I really loved you. But… That was the one thing holding me back, every time before, I had tried to leave, but his piercing eyes and soft lips made it impossible for me to walk away on him. I just could not leave him. Not now…

The last time I kissed him, he looked at me differently, as if I was something he wanted. Not something he loved, which is why I left. However, it broke me more than it broke him, to be honest. Why did you break me? I wanted to ask him a million questions, but I knew deep down that I would never get the answers I wanted.

I had stayed hoping that I could help him, but it ended up being all for nothing. He was broken and lost from addiction and I was broken and lost from losing him. I needed him to feel whole, but I could not love a drug addict. Because I was not the thing he loved anymore, his love was pills, getting high, and drinking past the legal limit. It was a wonder he was even still alive.

I often used to think about life and what it would be like to spend the rest of it with him, but now I do not even understand how such a thing could ever work. It would never work, not with him like this. Not with him making me like this.

I left because he broke his promises. He made promises that could not keep, and when he seemed to make some progress with his struggle with addiction, he would go back to his old ways. Why did he not try, why was I always the one trying so hard? It is not fair. I hate watching him waste away like that…when he does not even give a damn about what his addiction problems do to me…I hate it.

One day, back in fall of 2010, I remember coming home and finding him unconscious on the floor in the bathroom, the bathroom mirror was open and there were pills scattered all over the counter. I felt paralyzed. I screamed "Oh. My. God." Do not kill him. Please do not let him die! I love him.

I called the police and begged them to hurry with an ambulance soon. Fifteen to twenty minutes later, they had him rushed to the emergency room. I was crying sitting in the waiting room. I looked around the room. It smelled sterile and like orange scented Clorox. I never was crazy about the smell of hospitals. Hospitals always felt alienish with those white walls, boring wall art and hard as rock chairs in the waiting room.

It was 2:30 in the morning and I was numb and beyond tired. Not to mention I felt terrified and lonely, and mostly…heartbroken. Just a week ago, he had promised me he had stopped. However, fast forward to right now, and I see it was all a bunch of lies and false hope. For him, once an addict, always an addict….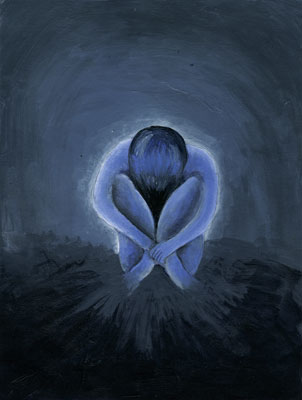 © Becky F., Sacramento, CA