Ocean Wind
April 1, 2012
Wind can be a strong thing. Wind can be soft thing. It can be as quiet as a little girl telling her best friend who her first crush is. Wind can be a loud thing. It can surround you in screaming pressure. But what I have learned in all my years is that there is nothing like the ocean wind.

The ocean wind: cool and soft. Always gentle. When I breathe it in, I taste salt. When I smell it, I smell something so fresh and clean it makes my mom's house cleanings supplies tremble with fear. The warmness of the sun seeps deep into my bones: the bones that have had a constant chill to them since winter. With each step that I take my colorful dress, with its thin straps, sways back and forth. It moves like the water. Steady and smooth.

The sand further away from the waves feels like little spiders crawling in frenzy over you, but the sand closer to the shore has swallowed some of the sea and it is stiff now. The weight of my body over it leaves my foot print for only seconds because the water wishes it away.
I continue my walk on the beach and think of the other times I have had here. My first memory is when I was seven. I had gotten angry on the way here because my parents didn't get me the pink floaty thing I wanted. My dad would tell me "If you use one of those in the ocean, you'll float away and get eaten by the sharks!" My mom would try to hold her smile back as she hit his arm, but I would only cry louder. That trip was a rather terrible one, but I have noticed that sometimes the most terrible things in life are also the most memorable.

Suddenly realizing that I have been walking for a little over and hour, I sit and wait for the sunset to come. When is does I am taken back by its beauty, as I always am. All the sunsets I've managed to see have all been different, and there is no exception for this one. The sky is streaked with pink and blue and purple and red. The colors blend so perfectly well you could almost mistake it as one. Then, right in the middle, resting on the surface of the lapping water, the sun rests its peaceful head and sinks deeper and deeper into the horizon.

When I get back to my hotel, much too late for my parents liking, the ocean wind gives me one last gentle touch. A breeze long enough, but not too long, for me to taste and smell it once more. I walk inside, closing what might be the best thing on earth, out the door and I don't look back. I know I'll see it again in the morning and that's enough to keep me going.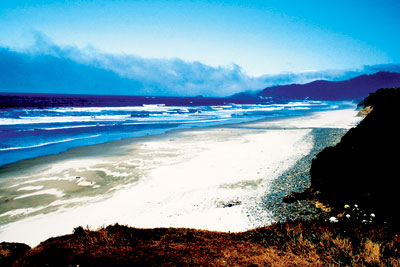 © Kristin R., Los Altos, CA