The Run
April 10, 2012
He heard the door slam behind him and took off running. He pushed with all his might to run faster than he'd ever ran before. Ling felt the wind blow his hair back and in a few seconds, his feet were floating above the ground. Almost instantly, he felt just about as well as he had before he had found out his brother, Juan, had just died. He couldn't believe it. They were supposed to be best friends and brothers forever. Forever seems longer than it is, Ling thought. He had a flashback.


Juan and Ling were sitting on the bridge, laughing at Ling, who had almost just fallen off of the bridge.
"Promise me we'll be brothers forever, Ling?" said Juan.
"I promise," replied Ling.
Their friend, Mary, had said that friends shook pinkies when they made an unbreakable promise. So what did they do? They shook pinkies.


No, no, no! he thought again. It can't be over.
He ran faster...and faster.
The trees he passed were a blur. This made him feel better. This was his drug. Running was always there for him. Some people prayed; some people rebelled; some people gave up control. But not Ling. Ling ran. The run was there for him when Grandpa died; it was there when his mom left. The run was there for him when dad became an addict and started abusing him.
And now this.
All of these emotions of sadness, desperation, and grief were overwhelming. Ling hit his knees and sobbed; sobbed for his grandpa; sobbed for his mother and his brother. He sobbed for his father and his own future. He sobbed for the world. He continued for hours.
After hours of crying and thinking, Ling decided he had to get away from where he was. All he had left was his abusive father. Life had taken his grandpa, his mother, his father, and now his brother; he wouldn't let it take anything more.
Ling didn't look back...and ran.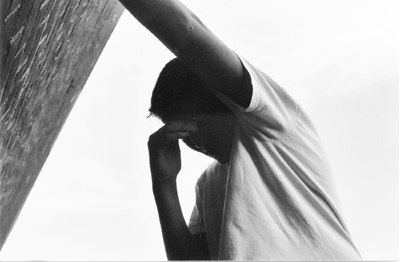 © Dillon O., Pompton Plains, NJ