Hanna
April 10, 2012
I felt my heart stop.
I re-read the update from Mrs. Jen before I burst out in tears. I can't believe she's gone. I knew she was in PICU, but they said she was better and that the prayers were working. This wasn't supposed to happen. As I run through the hall and into the kitchen, all eyes are immediately on my bloodshot ones, especially Trez's. They all know what happened. They all know I've been stressing out about this all week and have been praying, telling God that if he helped her through this and that she made it, then he could have me in the morning. I've been spending my free time up at the hospital, just in case things took a turn for the worst. Trez walks up and wraps me in his arms and I instantly soak his shirt with tears. After a couple of minutes of silent tears from most everyone in the room and my wails, I step back from Trez and walk outside, racing into the woods. I hunch over and start hyperventilating. Soon enough I hear footsteps and feel his hands on me. I let him pull me up off the ground and back into his arms.
"There's nothing you could have done, babe." Trez says, trying to comfort me. We've been together for almost two years and no one has ever had the effect on me that he does.
"I know, but I feel so helpless!"
"You're trying your best. No one has ever found a cure before. It's going to take time."
See, when I was little, cancer almost took my life, like it just took little Hanna's. I've watched so many people in my life die from cancer, I got sick of it and decided I was going to find a cure for cancer. I know it sounds like one of those childish, unrealistic dreams, but the progress in my project has gone very well so far.
"It's not fair! He could have taken me, instead of her, though! I can't help but be upset! I've lived more than she has! She was only six years old!"
"Hey, calm down. C'mon, let's talk about it."
And with that, he pulls me down into his lap and we talk about little Hanna.
"You know what I think you should do? I think you should write a song for her and perform it at the funeral or just for her family. It would be good for all of you."
"I think that's the least I could do for them."
My whole life, I've been about music, dance, and acting. Hanna meant something special to me, so the best way I can repay her is to write a song about her.





-----
The next morning, I'm sitting in Jen and Rich's living room with Trez when I realize I'll never see her beautiful, live face again. I woke up wanting to see them and to ask them to perform the song at Hanna's funeral.
"How are y'all doing?"
"We've definitely been better. But we know she's in a better place," Jen says.
"Yeah."
"We are glad you guys stopped by, though. You meant a lot to Hanna," Rich says next.
"I just wish I was there when it happened. She helped me so much. With everything."
"Hold on. I have something for you," Jen says, and then gets up and heads to their bedroom. She comes back with a picture of Hanna and me at the hospital in the tree house. If someone saw this picture, they would have never guessed she had cancer, besides her ghostly pale skin.
"She would have wanted you to have this."
When I see the picture I start to cry again. I get up and hug Jen. We start crying into each other's shoulder. This house feels so empty without Hanna and her bubbly smile.
"I need to ask you something," I say.
I wait to go on until they nod.
"I started on a song for Hanna yesterday and I want to perform it at the funeral tomorrow. Is that okay?"
"I don't think she would have it any other way," Rich says.
"Of course," says Jen.
"Thank you, guys."
For the next hour, we all spend it sitting on the sofas, talking about joking around in the hospital rooms, the time that motorcycle gang gave out stuffed animals and do-rags, and when Hanna got to meet Britney Spars, Justin Bieber, and other celebrities who came to visit the kids in the hospital. Even though we miss her, there's a peace that has settled over us.





-----
I'm standing in the bathroom looking at my pale skin and dark circles under my eyes. Stress and lack of sleep is not a good look on me. I hear a knock at the dor. It's Trez.
"Are you okay?"
"Yeah. Fine."
"You can't lie to me, you know."
"I know. Let's go."
We walk back into the church. After some of Hanna's family members talk about her, it's my turn to perform. But first, I talk a little about Hanna.
"Hanna was someone extraordinary. I was volunteering at the hospital and going through a hard time. Hanna taught me how to forgive, love, and enjoy each moment as your last. Although she was younger than me, she was and always will be my role model."
After my speech, I sing my heart out. When I finish my song, there's not a dry eye in the house. I've performed a million times, but no other time has touched me like this time has. I felt like Hanna was sitting in the front pew, just watching me with a big smile on her face.
She was only 6 years old. I had only known her for about a year, but I will never forget Hanna. She taught me how to love and how to forgive. But most of all, she taught me how to live.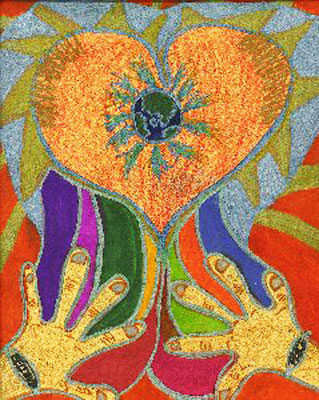 © Amanda P., Clermont, FL