The Absence of Markers
April 6, 2012
An alternate dimension, a two-dimensional kaleidoscope, that's what they created for me. But not really for me, for him. Me when I was him. A canvas at the ready for experiences, dreams, and ideas to be traced lightly upon, then erased and outlined, then drawn once again. Which is funny, because that's exactly the way I made art when I was that age.
I'd spend hours on certain days with pens strewn all over my too-small-for-even-me desk, pressing what one might consider blemishes into the otherwise pure white paper. But they weren't blemishes to me. They were portraits of a world of which only I held the key, one where nothing was ever reproducible, and sudden sparks of supposed brilliance speckled a barren, landscapeless world.
Somehow, it seemed I could always think of something new to attempt; try it with my eyes closed, try pressing hard then quickly blowing. I couldn't do this anywhere else, so I was fairly pleased with myself on a regular basis with these paintings. I'd flaunt them unabashedly in front of my parent's eager-to-love eyes, and bask in the glory of my accomplishment for the rest of the disappearing day.
Surprisingly, I wish I had markers on my too-big-to-ever-be-filled desk now. I am choked by the clichéd cubicle upon cubicle, sure to be strangled in a world with seemingly limitless possibilities. Maybe with them I could reproduce that feeling that I never get anymore. That feeling of creating something tangible, extracting a nanosection of your soul and coloring it into a sheet craving life. Now, my canvas has been painted upon by someone in too much of a rush to think more than a layer deep, and I still own a hope that those markers of a fossilized generation could be used to cover up my past failures with hope of a future.
But the clock for my future is ticking, and the absence of markers is looming.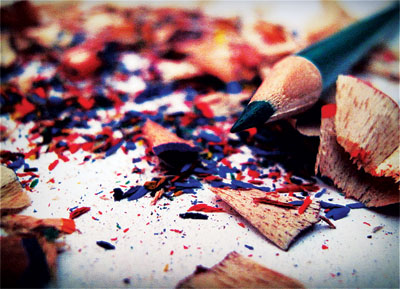 © Rosalee M., Lowell, MA