Cold Hearted Lake
March 2, 2012
As soon as I step out of the car my senses are instantly overwhelmed. I feel the chill water from the puddle I just stepped in, seeping through my shoe and the bitter wind against my face. I hear the waves striking the channel walls over and over, I notice seagulls flying just under the dark clouds that are cloaking the lake.
The muscles in my body get cold fast making the journey to the start of the pier longer than it should. I catch sight of what was once yellow painted caution signs on the ground, but the devious lake has already washed away the warning. The lake doesn't want visiting victims to be aware the danger it posses. My mind is telling me I should turn around and head back, but the wind is nudging me, forcing me to go forward. And so I do.
I walk down the middle of the pier, the menacing boulders on the each side of me are like escorts preventing me from straying from its path.
I reach the end. The wind is now more violent, more aggressive. The only thing in my view is the monstrous lake. The farther out in the lake, the more vicious the sky and water appears. I'm intrigued, mesmerized by the mystery and entranced by the unrevealed.
The lake and the sky are conspirators, partners in control, they are seducing me. I am tormented with desire, a hunger that can only be satisfied by surrendering to the savage sea.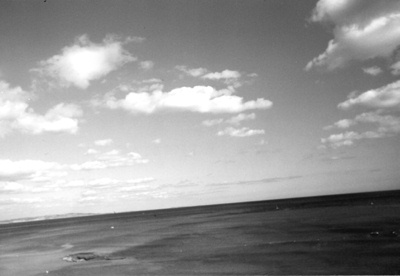 © Nikki C., Phoenix, AZ