Love after War
February 27, 2012
Love after War

Brian McAdams is the hopeless romantic; and I am the cold-hearted cynic. He tells me I am the definition of beauty itself, the love of his life--and I hate him. I am his world, and I hate that, too.

Last night, he even went as far to say, "You're the reason I live." We were sitting at the top of the grassy hill where the stars were only an arm's length away, and the moon, perfectly positioned right above us, reflected off of our foreheads. If I was like the other girls he'd dated, then I'd giggle, and tell him how cute he is, and kiss him gently. But I am not; I am disturbed.

The expectation to keep him alive is much too great for me to handle.

Instead, I dropped the ham and swiss panini that he made for me (because he knows it's one of my favorites), stood up and wiped the grass off of the back of my white jeans--I definitely regret wearing white-- and walked away.

* * *

That was three years ago.

I never quite understood why Brian called me beautiful or why he'd yell, "I love you", even after I claimed I hated him. And as time moves forward, I realize that I probably never will.
After my walk of shame down the hill on that chilly night, Brian McAdams managed to crawl his way back into my life. He's like a puppy-- a puppy that whines and looks at you with those huge brown eyes, but you're scared to get rid of him, because he's so cute—and because he somehow always knows the exact things to say.

I can't let go of him and that's what drives me crazy.
Brian has somehow managed to slip the topic of marriage into our conversations from time to time. And even through the pressures my mother has put on me to marry him, I've pushed it aside as a small possibilities.

We moved in together about a year ago in a tiny apartment in the heart of the city. New York, that is. The apartment is only about 1000 square-feet with wide floor-to-ceiling windows that overlook the "concrete jungle". The hardwood floors are light-brown with little notches in them, which I always stub my big toe on, but I like them because it makes the place a little homier.

Brian's paycheck from his worthless internship at the TV station barely covers our phone bills. We mainly survive on Chef Boyardee and Ramen noodles, which we eat on our lumpy black leather couch that Mom and Dad gave us as a belated house-warming gift six months after we moved in. The refrigerator was passed down to us from my aunt; the coffee table is from Brian's grandmother; and his uncle, out of the kindness of his heart, gave us his old TV that collected dust in his basement. The most expensive thing we bought was the bed.

November 14

Yesterday I woke up and got my morning cup of orange juice before sitting by the window behind the couch. The rush of the New York mornings are always the best way to start my day. I get excited watching the homeless man on the curb yell, "Spare change" at the speedy professionals, hearing the car horns, and the angry taxi drivers screaming at each other out of their driver's side windows.

Brian rushed into the living room at exactly 8:00. He woke up an hour late, and although I could have woken him up, I decided against it. He walked towards me, struggling to get his left arm into his suit jacket.

"I'll be home a little later tonight. My boss has some extra things in store for me, I bet. I gotta get that promotion, baby," he said. He kissed me on the cheek and sprinted out of the apartment. The strong smell of his cologne lingered in the air in front of me.

I faced the window and proceeded to watch the people below me, but I got interrupted once again. This time, it was Brian's phone. He set it down on the mahogany coffee table when he said good-bye to me, and forgot it there. The phone vibrated violently on the edge of the coffee table, and nearly fell off, but I caught it before it could. I unlocked his phone and entered his pass code, and read the messages:
2 new messages
(123)-456-7890: Good morning, Brian
(123)-456-7890: Hey, Brian. It's Michelle. Meet me at the restaurant at 7 to discuss the plans?

November 21

After a week of thinking, I have come to the conclusion that Brian is a cheater. It's official. That Michelle girl texted him five times that day. I was tempted to respond to her messages, but instead, I kept my hands balled up in fists with my thumbs tightly curled under.

I sat by the window for the rest of the day and people-watched late into the evening, as I waited for Brian to come home. I didn't say a word to him when he walked through the door. All he got from me that night was a tight hug and a bowl of beefaroni.

Still, the question of who I should be mad at--Brian or Michelle?--weighs heavy on my mind like a dead weight.

That night, I quietly got into bed and scooted my body towards the edge as much as I could without falling, despite his efforts to pull me in close to him. After a couple of tries, he gave up when he noticed me rolling back over to my side of the bed. He rolled over, too. And I went to sleep to the buzzing of his phone on his nightstand.

December 5

Brian has had the shower running for exactly twenty-minutes, which is strange, since he never takes a shower longer than ten. I knock and press my left ear against the door. "Brian, are you ok?" I ask.

"Yeah--yeah, I'm fine. I'll be out soon, babe." I wait a minute or two before walking away. Brian mentions dance lessons and a hotel. "Cool. I'll see you soon, Michelle. Talk to you later." I hear Brian's heavy footsteps coming towards the door and I try to quickly walk away before he sees me, but he catches me before I can completely turn around.

"You ok?" I ask.

"Yeah. I just forgot my towel." He gently puts his hands on my waist and scoots me out of the way. He hasn't even gotten in the shower yet.

"You were on the phone-- I heard you," I say as I follow him into the bedroom.

"I was discussing a meeting with my boss." He shoves his phone into his jean pocket.

"Really?"

"Yes," he says with a smile. "Calm down."
December 10

Brian hasn't been himself lately, and it doesn't take a rocket scientist to figure that out.

Today, he asked me what my favorite food is, which is weird, because he knows that the last thing I want to do is discuss food and my eating habits, ever since I've been on my new diet.

"You know I have expensive taste," I say as I walk past him. "Think about it."

He crosses his muscular arm across his body and props his right elbow on top. "Ha, I know!" This is odd. Brian has never asked me what my favorite food is. All he ever cares about is what's the cheapest. He grabs his phone off of the counter and goes to our room, shutting the door behind him.


With the hopes of finding evidence, I look through Brian's web history. What I find is disturbing-- absolutely disturbing. There are pages and pages of web searches for flowers.

There are two things that could be going on right now: either Brian is planning to take Michelle on a hot date followed by a night in a hotel, or even worse--

I think for a second and realize that all the signs are there: the snooping around, staying after work to "discuss" things with his boss, the dance lessons, the cooking, the flowers--it all makes sense.

Brian is gay.

December 15

Since I have come to the conclusion that my boyfriend may be in the closet, I still have not figured out who Michelle is.

Yesterday, I was looking through his phone while he was in the bathroom. I was too caught up in my scheme to remember that the two minutes men take to pee is not enough time to completely go through their phone.

"Who is Michelle?" I asked as soon as he opened the door.

"A friend, that's all." He reached to grab his phone.

"Tell me the truth, Brian! Who is she?"

"I'm not lying to you, I promise." He walked over to me and put his hands on my shoulders. "Now give me the phone. Now," he said. I threw the phone at his chest and it hit the floor. I stomped away to the door. "Babe, listen to me. There's nothing going on between me and her. Michelle is just helping me out with something right now, I'm serious!"


He looks at me, pleading with those eyes-- the same, big puppy-dog eyes that have pulled me back to him countless times over the years.

I fought against his powerful gaze and slammed the door shut behind me.


January 3

Today is mine and Brian's two-year anniversary.

He's brought me to my favorite restaurant in an attempt to make it up to me for the way he's been acting lately, I guess. He somehow managed to preorder our food, and it was sitting on the table before we got there: shrimp linguini, with a chicken Caesar salad, and Crème Brûlée.

He started to fidget and rub his hands together, the way he does when he gets nervous. "So, babe, I have something to tell you."

I look up at him from my plate of linguini and raise my right eyebrow.

"I have a huge surprise for you--this is part of it actually," he motions his hands over the table. "And Michelle from work, she's…she's helped me out. You know, helped me plan everything. I couldn't do it by myself."

"And…??" I ask.

"And the rest of the surprise is at the house."


The night is relatively quiet for New York. The wind feels sharp, like ice crystals slapping you across the face. Time Square lights up the night sky in the distance and the beeping of car horns are faint.

Brian grabs my hand and walks me up to the apartment. The door opens to a pitch black living room and when he turns on the light, I see a bouquet of my favorite flowers resting on the coffee table with my name written on it.

"Do you like them? I went through a lot of trouble getting those," he laughs.

"Of course I do. I love them."

He leans down and gives me a kiss. "Wait, I have two more surprises for you." He walks into the bedroom and when he comes out, he has an envelope in his hand. "I know how bad you've wanted to learn how to Salsa and all that stuff, so I signed you up for classes." He hands me the envelope, "And if you look in there, there are tickets to Broadway. I know how much you love that," he said smiling.

My face lights up and I wrap my arms around his neck and hug him.

He kisses me on the cheek. "There's one more surprise. I saved the best for last." His hand becomes shaky all of a sudden and he fumbles for something in his pocket.

He pulls out a small black box, and I stare at him as he kneels down on one knee. Without words, I realize what's really going on, and it's official, Brian McAdams is not gay.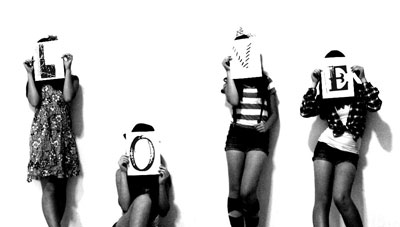 © Yoko K., Madison, WI