Poets, Pencils, and the Melancholy of Life
February 29, 2012
It started out 8 inches long.
The smooth, wooden surface was covered by a full-bodied red paint that wholly extended its bright hues every which way only short stopping at the neat, metal wrap-around base and at the other end which tapered to a fine, sharp point. Bull's eye.

I had always dreamed of becoming a writer. I wanted my first work to be something sensational, and it had to be something I really cared about. I had already published articles for local periodicals with unintimidating names such as Small Talk and attended a writer's workshop twice a week. The classes were held in a small town university, and I remember briskly walking into the classroom on my first day imbued with hope. Once the class had settled down and the professor laid out the rules, the lesson began. With a written exercise. I bit my lip in annoyance as I recalled the class requirements and how it had demanded at the top of the page to bring a laptop to class. I pushed aside the $600 Mac I had bought for the occasion, and quickly sifted through a lovely mixture of wrinkled paper and pencil shavings that lay crushed at the bottom of my bag. I knew I hadn't brought a pencil. A broken BIC pen nonchalantly rolled out of an unzipped pocket. I don't know why I was searching. Suddenly, I felt a hand tap my shoulder gently. I lifted my eyes. Out of nowhere, a young man about my age, smiled, grabbed a pencil from his pocket and placed it on the table in front of me along with a sheet of paper before returning to his seat all the way at the end of the table. I paused and stared at the pencil moment, not sure if it was there or not. I glanced at the board where the instructions were written, and quickly snatched up the pencil to begin writing.
I furrowed my brows, contorted my face, and bit my lip in pensive, yet frustrating thought as I sputtered out word after word. Despite that, I finished the writing sample five minutes before the end of the time limit. I lounged back in my seat and looked at the pencil the man had given me.
It was eight inches long. The smooth, wooden surface was covered by a full-bodied red paint that wholly extended its bright hues in every which way only short stopping at the neat, metal wrap-around base and at the other end which tapered to a fine, sharp point. Bull's eye.
I made furtive glances in the man's direction to see if I could quietly return the pencil while everyone else worked. He actually wasn't that far from me – only two or three seats away. Close enough that if I stretched out my arm and leaned to the left, my fingertips would skim the side of his scuffed leather jacket. He had finished his prompt and his head rested on top of the table, but before I got up, I heard a snore. Asleep? I massaged my temples.
At the end of class, a few volunteered to read out what a twenty-minute time frame allowed. The subject had been the significance of names. An older woman reflected upon the relationship of names with nature. Another had written about how she had been named after her late grandmother. Two more had something similar to present, and I soon discovered how much louder and pronounced the sound of a clock ticking became as twenty more minutes passed by.
And then the man who had lent me the red pencil marched up to the front. With a sheepish grin, he introduced himself as Allen and jocularly announced that instead of writing a piece in response to the prompt, he decided to write a poem.
A few students muttered something under their breath, a few eyes rolled, but he began reading anyway.
"It's called 'Refrain.' And it goes like this." Allen cleared his voice.
"The air is dark, the night is sad,
I lie sleepless and I groan.
Nobody cares when a man goes mad:
He is sorry, God is glad.
Shadow changes into bone.

Every shadow has a name;
When I think of mine I moan,
I hear rumors of such fame.
Not for pride, but only shame,
Shadow changes into bone.

When I blush I weep for joy,
And laughter drops from me like a stone:
The aging laughter of the boy
To see the ageless dead so coy.
Shadow changes into bone."
No one dared to utter a sound as Allen returned to his seat. And as he casually strolled past me, he turned his head, looked me in the eye and a wry smile spread across his face, almost as if he was about to burst out laughing. Both of us knew how good the poem was. No one had to say it.
I had to admit. I admired Allen. After class one day, he opened a notebook filled with his own poems. Bits of prose were crammed into margins, and I found myself in disbelief to discover nothing had been erased. It was as if Allen had copied line after perfect line of prose from his head effortlessly, flawlessly. I basked in the perfection of it all.

Then one day, I arrived to class to find the seat two spaces away from me empty. Dust slowly collected on the chair's ebony frame as days became weeks. I nervously approached my professor one morning in hopes of a clue, an inkling, anything. I never did.

Perhaps Allen had fallen ill. Or moved away. Or…didn't want to see me. But I'd rather believe him to be gone forever than my greatest fear – the fear that he had never existed. I remembered that he would appear at the most random times, no one else seemed to notice him but me, and when I asked the professor, even he seemed unfamiliar with the name.
On a clear August afternoon a few months later, I was skimming through an anthology of poems when I came across a poem called "Refrain". It was written by a famous beat poet who had been dead for fourteen years. I looked at the name – Allen Ginsberg.
It was then that I reached into my bag and pulled out the red pencil.
How foolish everything seemed now.

I looked down at the red pencil held between my fingers, now chipped, faded, dull and worn-down.
To have hoped that someone could've been so detached from the world yet friendly and encouraging only to me. To have wished for such perfection when everything was so broken.
My eyes closed.
And to have dreamed for something that I never could've had.
But that wasn't right. The pencil started out 8 inches long.
The smooth, wooden surface had been covered by a full-bodied red paint –.
Snap.
Whoever Allen was, it had been a nice thought.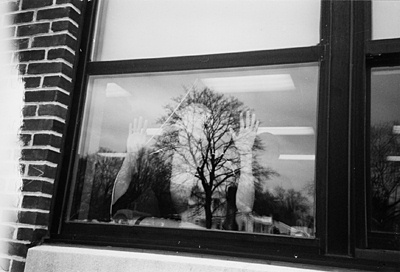 © Kaleigh W., Pompton Plains, NJ