In Another Life- Prologue
February 22, 2012
We had gone camping for my little sister, Addison's ninth birthday. Addie had begged and pleaded all week before our parents had finally given in. We packed up my dad's truck full of sleeping bags, tents, blankets, pillows, and enough food to last a week. We drove an hour to Lake Demitria, pitching our tents up half a mile upstream from where one of the many creeks entered into the enormous lake. Addie was a nature lover, and she pointed out every creature she knew by name, and looked up any she didn't in her animal book. Our parents had told us to stay away from the creek because the water level had risen, and the current would snatch us away in a second. I listened, knowing people had gotten seriously hurt and even died because of messing around in a river. But my parents had kept Addie so sheltered that she had no idea the dangers a single current could possess. Addison was smart, so I guess they thought she would figure it out on her own. But they didn't realize the price she would pay to do so.

After an evening of s'mores and scary stories around the bonfire, my parents and I woke up around two in the morning to the sound of Addie's gut-wrenching scream. Knowing there was no other place she could be, we ran to the creek. We got there just in time to see Addie being sucked farther down the river, toward a pile of boulders. The water level was about six inches higher than the amassment of rocks, so water easily down the other side. Any debris that crashed into the heap was not so lucky. Everything snapped on impact, making my sister's situation even more perilous. We ran alongside her, calling out instructions, the first being for her to try and spin around, so her feet would brace the collision against the stones. But the creek and its surrounding wildlife were too loud, and just as she tried to face us, Addie broke through the buildup of bedrock, headfirst.

The force was great enough to penetrate the ledge of stones, and Addie floated out into calmer waters after the initial buildup rushed out. My father dove in and pulled her to shore as blood gushed from her head onto the ground. We knew the wound was fatal as soon as we saw it. The nearest hospital was thirty minutes away, and there was an unspoken agreement that she didn't have that long. We sat on the ground and held on to her, putting pressure on the wound and trying to wake Addie up. Addie finally regained consciousness, but she was fighting for every second she had left.

"My shoes," she murmured, "I-left them-by the creek. I dropped one-and when-I went to get it-I fell." Silent tears began to flow freely down her face as she clutched my hand like a lifeline. "Please stay with me."
"Forever." That was the only word I could muster before my baby sister died, right in my arms.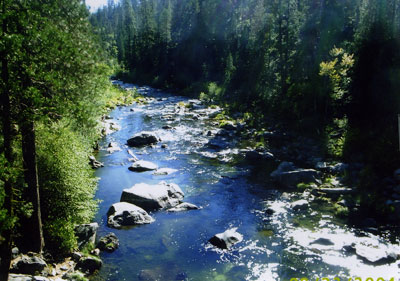 © Laycie C., Stockton, CA