Cascading of the Crystal Curtains
February 5, 2012
I awaken upon stone, surrounded by still waters glistening in the midday sun. How I got to this stone was a mystery for my clothing was as dry as they could be. Sitting in silence, I stared—observing the whimsical sights surrounding me. A beautifully transparent sky matched with an iridescent water surface and a pale sun tiptoeing without breaking the tension. Astonishment flashed before me. Vigorously, my mind reverted memories back into consciousness. I knew what I knew before (some call it anamnesis.) And I deduce my current disposition as my baptismal renewal of an old life.

It's not supposed to happen this way I thought—Incarnation I mean. I possessed the same body, the same mind, the same capacity of strength, yet what irked me was that I was aware of it all—the past life I mean. "If I were you," my grandmother always said, "I would take the time and enjoy the serenity of the waters." And I complied. This time with my eyes closed I listened: I could hear the water, though she was still. She spoke to me. Water's voice was smooth and soft and mellow. Soothing whispers filled my ears. Then I accused her; she equivocated. Frothy foam filled the vicinity of the stone and the viscous waters were hard to see. And I heard her voice no more.

Sympathy filled my heart. I wanted to hear her voice again for it calmed me. All I could see was the white froth layer above the water. And then it rained. This time with my ears closed I felt: I could feel the rain. The zing of each drop, each radiant prism, upon my tender newborn skin filled me with delight. And when delight devoured me, it was an archetypal happiness, like when you see a smile on someone's face and you know you placed it there. Meanwhile, the froth had cleared and the rain halted and I could feel no more.

Eagerness was in the air as I was making discoveries that allowed me to transcend a herd. And by herd I mean mist. The water got thick and volatile, little H2O particles sitting on my face. Mystifying appeared like the appropriate word to whisper into the mist but I did no such thing. This time, with two sensory modules, I smelled and I tasted. Her fragrance was lovely and it tasted the same way, like when you smell something sweet and taste it too. And now I realized I was ready.

I opened my eyes and my ears and allowed myself to feel sensation again. I stood upon the cold stone and walked with confidence. The surface tension was deftly resilient and I walked atop the water. The promenade took hours, or so it felt, until I reached the waterfall; it glistened like diamonds. Then I saw her. The crystalline waters cleansed me as I walk beneath them bathing away my sins. Purification was the first step to my new life. This time I shall regard the water's serenity.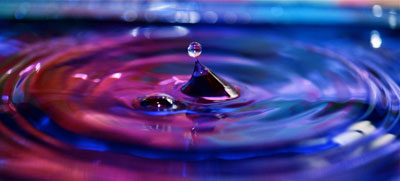 © Haley L., Anchorage, AK