The Bike Ride
February 4, 2012
It's a sad existence when even you don't believe a happy life is possible. Miracles, destiny, happy-endings– none of them are real. I haven't been happy in a long, long time. To be truly happy means to be free of all sadness. I haven't had that since I learned to ride a bike five years ago. I'm fifteen now.

The wind blows through my thin jacket, laughing at me as it nips at my vulnerable skin. I shiver but as I do I remember how much I like the wind. It speaks words to me like nothing else can. It tells me the secrets from far off lands. It tells me stories, ones that calm my shaking fingers.

My bike wobbles beneath me, teetering back and worth, debating which side I will be sore on for days to come. I make an "S" in the street, forcing a laugh as I do so. I haven't laughed in the longest time, almost as long ago as when I was happy.

My guitar hits my head when I lean over my handlebars. I'm flying down a hill gracefully, the pavement running from the monster I am. I shiver again. It's February and I'm riding my bike with a guitar strapped to my back. I have a song that needs to be heard.

The scenery is bare and lifeless. Mounds of decaying snow lie tediously around me, very little of them but enough to remind me it's still winter. The forty degree air hits my numb cheeks with surprising accuracy. Everything I see screams of spring but the dead feeling lying heavily in the air tells me differently.

Another hill. This one takes me by a pond, a thin layer of ice cracking through as the sour remains of winter struggle to hang onto the increasing temperature. I wish it was winter still, when the landscape is dead and so are the people. Nobody cares in winter, the world is desolate.

Tears spring in my eyes as the wheel of the bike jumps as I begin crossing the pedestrian bridge across a river. The floor boards shake under the weight of both the bike and me, the sound like a thunderstorm raging above me. It pounds in my ears, quakes my soul, and brings the single image of my mother through my mind back again.

I wish my mother was still alive. I wish I was happy and I wish the world could be alive again like it was so long ago. I wish beautiful souls didn't die for the greed in the world. I wish the days blended together in a beautiful rainbow instead of the monotonous gray like they do for me.

I wish many things, but as I said, I don't believe in happy-endings.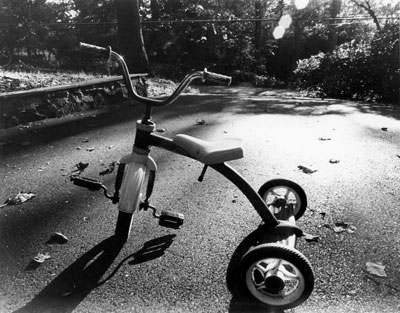 © Emma C., McLean, VA