My Sunrise
February 4, 2012
I wake up in the morning, but my day has not started. I get ready for school, but still, my day has not started. The bus ride might as well be in the middle of the night. Then, when I climb off the bus and I see him leaning against the wall in our usual meeting spot, the sky starts growing brighter. Still, it needs something more to help it along. As I grow closer to him, his mouth spreads in a smile. The sun bursts forth into the sky, causing me to smile as well. Now, my day has started.
We steal private moments throughout the day, moments in which we talk about nothing and everything. I can't help but smile in his presence. I have my own personal sun, I keep thinking.
School has ended. Usually, we hang out then, but today, he has to go help his sister move from one apartment to another one. So I say goodbye, my sun sets, and the day ends early as he drives away.
I go home in the darkness. In my house, shadows are prominent, and they just jump out at her everywhere she looks. His absence is very noticeable. I waste the hours away covered in a blanket of darkness. Finally, it is late enough for me to be able to go to sleep.
The next morning, I hear on the radio a story about a terrible car accident. I spare a moment of sympathy before rushing outside to catch the bus. I'm especially eager to get my sun in the sky this morning, but when I get to school, he is not there. I figure he must've slept late so I wait around for him to show up. When the bell rings, and he still hasn't shown, I start to get concerned. I ask around in my classes all day, but I only get the same fact over and over again: He was involved in some car wreck yesterday while on the way to his sister's place. I can't expect the worst, I tell myself. He's just in the hospital, recovering or something. That night, I watch the news. The most horrible story I've ever heard is featured. Tears spring to my eyes and I can't keep them from flowing.
I can't go to sleep that night. I don't go to school the next day. What's the point? I will walk forever cloaked in shadow.
My sun will never rise again.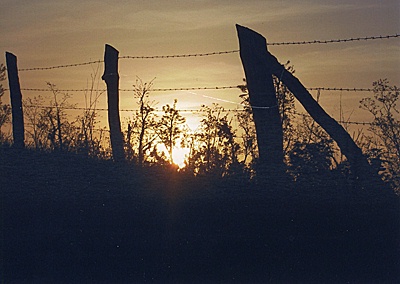 © Michael T., Letart, WV