New Life
February 7, 2012
Trying to walk through the crowds of kids situated all over the yard, I listen to the sound of them chatting and laughing and wish I could do the same. I was told to start a new life here, but how do I do that? How do I forget everything about me and who I was only a week ago?
I should be grateful. I'm still alive. Many I know are stuck back in that hell I used to call home. My friends have disappeared, some killed…so what have I done to deserve to be saved from the same fate as them?
A few weeks ago I would have been like people here; popular, cool, many friends. Not as well off as the people here, maybe, but at least I was just about happy. But now I am here and people who see me just think of me as a loner who can't speak a word of English. I will never be able to fit in here. It has somehow got around where I'm from; I can probably guess the rumours stemming from that fact.
Someone taps my shoulder from behind me. It's a girl I recognise from my new class this morning in my new school, in my new life.
"Hi, I'm Alice, can I join you?" What does she mean by that? It'll take a while for me to get used to the English style and culture. Before, I was the best at English in my old class. I always thought I was good at English, but here they speak too fast, or their accent seems to warp the words so much they become new words. I just nod, hoping that is a suitable answer.
She smiles; a good sign and we start walking together through the yard.
"…heard that you're from Libya…you left 'cause of the danger?" In her stream of sentences I catch this one, standing out from the rest. I finally guess her reason for talking to me. She wants the juicy gossip that will make me stand out even more as a freak. It's a shame; she looks nice, so I pretend to be dumb and answer her.
"Yes." She glances at me with startling blue eyes, surprised that I've actually managed to say something. "Many have…disappeared. I was lucky. My father…he has money, so he paid for me to come here. To safety."
Her eyes light up with concern, and widened. "Oh! It must be really hard on you!"
"Yes…" and then I can't say anymore. She seems to understand that, and keeps on talking, on a different subject.
It's frustrating how this country doesn't seem to really care about Libya. Sure, they report it, but they keep matters on money and politics closer to their heart. But maybe it's better; maybe it'll help me forget.
And just as I walk, the empty shell that was me seems to warm up ever so slightly. It doesn't feel so hollow anymore. Maybe I'll forget.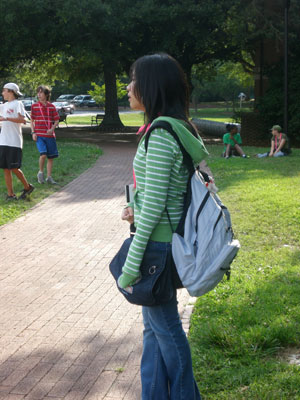 © Lucienne B., Parkland, FL