Old Ned
January 28, 2012
The old man shuffled slowly through the well kept cemetery; trees shaded certain patches of the grassy countryside, and the wind ruffled the leaves playfully. He lifted his craggy face to the brilliantly blue sky, and felt the warmth of the sun flood over him. Blinking away a few tears, caused by the sun, or perhaps, perhaps a sudden memory of loved times past, he continued his way down the cobble stone path, lined with tombstones, some shiny and new, others dirty, cracked, and illegible. The man then halted, and turned towards a row of shining black marble stones, as perfectly hewn as the roman statues of old. Each bore his surname.

Grasping a handful of daffodils tightly in his fist, as they were freshly cut, and indeed precious in his eyes, he knelt down upon the rough cobblestone path. His wrinkled head bowed low towards the earth, and a few stray tears beaded from the tightly closed eyelids. His brothers, his parents, his son, and most importantly… His eyes fluttered open and fixed upon another stone. This stone, centered among the others, was a soft and almost divine white marble. The man's eyes focused on this one object, his mind playing and replaying the simple inscription: "Continue to live, continue to laugh, for on the day we meet again I will not want sad memories."

Through his tears, a smile arose in a slow movement, that if one was not watching closely, one would have surely missed. The craggy face turned to the gloriously clear sky, spattered with only a few wispy clouds, and addressed it.

" You are always one for wit aren't you?" He sighed, and looking back down at the hard, cold stone, buried his head in his hands and wept bitterly. His knees ached from the cobblestone, but he didn't care. He simply wept, and wept, and wept. At long last, when he was cried dry, the man pried himself from the cobblestone, his entire body creaking in protest. Stooping down, he lovingly placed the daffodils next to the marble, and lightly kissed its cool surface.

He stepped back, his goodbye complete, the start of a lonely existence begun. How empty he felt! How utterly alone and abandoned by all that had meant the most. A dark cloud of fear suddenly gripped him. He could not do it alone. His face reddened in shame and defeat. It was already difficult to walk, to eat, or even make the smallest movement. Every moment was tiring or painful. He could not possibly hope for continued independence, and his life, he knew, would have to depend upon the assistance of others.

The man turned away from the stones, the markings of happiness past, and made his slow way back through the lines of others' life markings. He could not help but notice the thousands of of stones, the epitome of the world's grief bundled neatly into one enormous field.

Emotions began to surge within him, there was no holding them back any longer. The terror of loneliness, of helplessness rose in his soul. Grief, the painful wrenching at ones heart, clouded his senses, and the beautiful day around him ceased to exist. Nothing more mattered. How could it? What was his life now lay six feet under the chilled earth, and with it lay his heart.

The rows of stones ended, and before him lay a country road, his small pickup parked just outside the iron graveyard fence, under a large sprawling oak tree. Purpose took hold of him, its stability and relief flooded through him like the cooling waters of an oasis. Sad memories he could not offer, would not offer, but going onward was just as impossible. Grim faced, he sidled into the drivers seat of the old, beat up pickup, and its engine coughed to life.

Beyond the cemetery, the road wound through a wooded glade, passing by a deep ditch through which a pretty little stream trickled. The man's eyes locked on this ditch, and his foot hit the floor with determination.
…


Officer Smike of the county force pulled up alongside the wrecked vehicle, its metal twisted, and frame burnt out by fire. Grimacing at the sight, his face drained all color when he saw the growing dark puddle on the drivers side. The vehicle had flipped, caught on fire, and smashed upside down, front first into the ditch, missing the stream. Knowing what he would find in the cab, Smike radioed control,

" Hey, a… Chief? We have a fatality down by the cemetery… Yeah, looks like Ned." He made his way carefully to the driver's door, its edges black, and paint peeling. The truck, though marred as it was, was not unfamiliar to him. Often he would look forward to seeing it parked at the coffee shop on Saturday mornings while he was on his patrol of the area. Ned was a lively man, given to good conversation and hearty discussion about everything under the sun.

Peering through the cracked and broken glass, Smike saw the figure of his old friend, melted flesh hanging off of a staring skull, sightless in its determined gaze. Smike stepped away, nothing he had ever seen could have prepared him for this. Seeing a dear friend charred to a near unrecognizable mass, studded with glass and metal was too much for the man. Ned had always lived with great vigor and enthusiasm, it was against all human code for this good man to die in a freak accident. Frowning at this thought, Smike looked back towards the road for signs of a cause, burnt rubber, a deadly curve, sharp objects, anything to give a hint at the cause of this deadly accident. There was nothing. Smike checked over the car, though melted, the tires had not been slashed, there was no damage done other than that of the roll and collision. This man was either killed by his lack of attention, or…

Smike knew. The old man was not one to make a careless error. This had happened , and it was meant to happen. The sirens erupted into the calm summer day, and Smike swore with disbelief at the beautiful summer sky.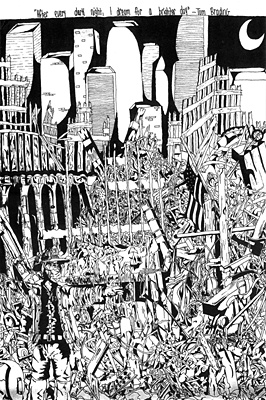 © Tom B., North Vernon, IN