Gabrielle Smith Chapter 3
February 9, 2012
Photo credit: Emily B., Houston, TXThe author's comments:

This is an emotional part to the story.
"They look so happy, so in love. Holding hands and cuddling like that. I can't believe I let this happen to me. I mean look at me," Gabrielle mumbled looking into the reflective surface of the pond.

A sad, wet, and tormented girl stood looking back at her. A pair of jeans, a tank top and a hoodie is all she's wearing. The gentle drizzle had soaked her through so we know she's been walking awhile. As Gabby stroked her hair so did the poor creature looking back at her. She slapped the pond and sent the water rippling across the pool of water.

She had been staying with Ashlyn for the summer because her parents had won a summer trip to Rome. Ashlyn had kindly agreed that she could stay at her house. Thanks to have been staying there for years Gabby was like her sister. Gabby, decided to go for a walk… Damion had his friends over and Gabby couldn't bear to have his friends see her. She couldn't handle the stares.

For a while now she had been getting stares from guys, but none of that mattered because as hard as she tried she couldn't catch Damion's eyes on her. But, what was she kidding herself he would never like her. She was his little sister's best friend and she was just like all the others, at least in his eyes.

She didn't understand why everyone stared at her. It was just her, Gabby. She hadn't changed much. A hair cut, thinning out, and growing a chest, that was it. She was still same old Gabby that everyone had known for years. Although the stares did boost her confidence she couldn't help but feel a little awkward. I mean they were her guy friends she first noticed the stares coming from.

But, that didn't matter anymore. She walked through the baseball field. There was going to be a game tomorrow night. Maybe she should go? On the other hand, Damion always went. Who knows maybe she will, maybe she won't, but does it really matter when the only one you care about hates you?

Soaked to the bone, she walked back to the house. As she walked through the door she heard music coming from downstairs.

"Well at least I know where the boys are." She thought.

Gathering up some fresh clothes Gabby headed for the shower. She walked into the bathroom and locked the door behind her.

No way they are going to get in here while I'm showering, she thought. She giggled at that idea, "Now that would be funny."

She stripped off her cold and wet clothes and threw them into the hamper. She started the water running and brushed out her hair while the water warmed up. As the warm water covered her body after she stepped in she started to relax a little bit. She worked her lavender scented shampoo into a soapy lather and worked it through her hair. After conditioning her hair and washing with her scented body wash she stepped out of the shower.

Within minutes she was dressed, had her hair pulled back and was curled up in a blanket in the living room watching her favorite DVD, Avenged Sevenfold Live in The LBC. She loved the sound of the heaver metal and the rock tunes. They helped her block out what was bothering her.

She grabbed her writing journal and began writing away. First several poems about her different feelings and then finally another short story filled more space in her book.

"That's better," she whispers to herself as she puts down the journal.

"What's better?" a voice says from the hallway.

Gabby looks up to see Damion and his friends looking at her from the door to his room. She slowly reaches for her journal and slips in under the blanket.

"Why do you want to know? It's not like you care." She said quietly not looking him in the eyes.

"Are you sure about that? Come on boys let's watch the DVD with Gabby." Damion said with slight amusement in his voice. The three boys nodded in agreement and they all sat down with Gabby.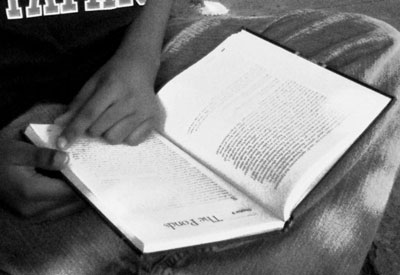 © Allan L., Plano, TX