Read, Pray, Hope
February 1, 2012
Many times a week I visited Reggy Sorenson. Sweet, firm old man. He never was mean. Never wore a frown. Always had his wrinkly, worn dimples showing. His glossy green eyes sparkled like the stars he loved to gaze upon. Especially at his happiest. So many things about that man I truly loved. He always managed to make a lovely apple pie. Sweet crisp, ripe apples slices fresh from his apple tree he seemed to admire so much. He might have secretly loved it more than anything. It was about as old as he was. He always knew what to say. No matter if it was impossible to explain, he knew the answer. The pure-hearted man loved everyone. Even those who hated him.


Reggy fell in love with a French girl named Amabel Moreau. She was a beautiful twenty year old. Her skin was flawless. Sun kissed and gold from the sun. Her beauty came naturally. Mabel was a very small, petite girl. So short and fragile it seemed. Reggy loved everything about her, and she was what he wanted.


After two years of dating, Reggy married Mabel, making her forever his. They built a new, beautiful spacious three story Victorian house on the outskirts of town. They had many acres of land surrounding the white house, making the wrap-around porch look so small. The white fencing was freshly coated, blades of grass tipped white. The black roof was slanted at a perfect angle, making it easy to climb on and gaze at the stars. After the house was finished, their life began together, living out many times of struggles, and many times of tears.


After giving birth to baby Lee, Mabel was excited to add more to the family. A few months later, the couple tried again. Mabel had a miscarriage three months into the pregnancy. Miscarriage after another, Mabel grew weak and hopeless. She always dreamed of having a big family. Reggy felt her sorrow. He too wanted many children. Mabel wanted to try once more.



Mabel woke up feeling overwhelmed one night. She knew it was from being ten months into pregnancy. Discomfort was very common. Her swollen feet ached. Pressure was building up, pushing up her uterus. She sat up to take a few breaths. Every breath got faster and shallow. A sharp pain went through her lower stomach, knocking the wind out of her. She gasped clenching her fist. Another pain shot through. She grabbed her pelvis, sobbing in horrible pain. Her sobs turned to tears.


Falling out of a deep sleep, off in the distance, Reggy heard his wife's cries. His eyes snapped open, trying to adjust. He searched his side for her. Finally seeing her face, he jumped up running to the side of the bed, reaching out for her left arm to support her. He started to uncover her legs, pulling sections back slowly at a time so he wouldn't further hurt her. Her face went white with a scream following. He yanked the sheets off, holding on to her tight. He felt faint. He couldn't focus. All he could think about was the puddle of blood.


She screamed from the sight holding her husband's shirt tightly between her fingers. She squeezed her eyes shut, forcing tears to stream. He pulled her up in the bed, away from the horrific scene. Inching up the soaked sheets, Mabel felt a small hot thing rubbing up against her right thigh. She felt nauseous. She slowly pulled up her night gown, shaking. Reggy followed her slow movement, not sure what was wrong. Underneath the cotton, green gown, a small pink corpse lay.


The body was small. It was slowly departing from the bunch it was in. The eyes were closed, the mouth was slightly open. It had small black fuzz on the head. The feet were so small along with the small fingers on its hands. The body looked so lonely where it laid on the bloody red sheet. Slowly, she saw the color drain from it. The little drips of blood left on the body finally stopped, drying on the skin. Mabel stood frozen, staring at her small, dead, baby boy. She took a few steps toward the infant., feeling dizzy and unstable. Reggy held on to her arm still, not able to look her way. Tears started to roll down his cheeks. She took another, a tear forcing its way through her shocked eyes. She took another. Reggy closed his eyes trying to keep his composure. He forced his small, wobbling legs to hold his heavy body up. A few seconds after her fourth step, he felt a hard tug. He opened his watery eyes, pulling back as hard as he could. Mabel slammed to the ground, her eyes open her heart stopped.

Mabel was hospitalized for many months, laying in a coma. Reggy hadn't slept much or eaten any since the terrible night. Lee was also hospitalized for awhile, suffering from a severe case of pneumonia. After the third month into the medication, her conditions were worsening. Lee slowly passed, her small immune system shutting down. Reggy's only hope was his wife. His sweet Mabel. The woman he couldn't ever replace. The woman he loved more than anything. She was his world. He needed her in his life. He missed her big brown eyes. He missed her. He did his regular routine, leaving the hospital at 8. He walked home in a very slow pace. Walking in the door, he hung his hat and coat. The house was so empty. So dead.


He looked around for a second, than shortly after closed his eyes. He was imagining a home with a big family. Walking through that very door everyday to Lee and all her siblings. His wife greeting him with a hug and kiss. Mabel. No other woman just Mabel. The wife that put a smile on his face. The wife that turned a bad day into a good one. The wife that cooked him and his family a wonderful dinner every night. A table set for many. The sound of crisp bread breaking in the kitchen, being prepared for dinner. The sound of laughter. The sound of a baby's cry. The sound of his wife's voice. Mabel's voice.


Mabel's beautiful face, A smile draped across her thick lips. Her hair pulled up, small curls framing her oval face. She'd look up at him, pushing the strands away from her eyes. He'd see her big, beautiful brown eyes. That face he missed so much.


But none of that existed. Just the sound of wooden boards squeak under his steps. The sound of book's page turn. The sound of a tear hitting the wood floor.


He turned on his side lamp, sat down in his chair and took a deep breath. He picked up his book, setting his glasses on his nose. Flipping to the page, he picked up his rosary. He looked out the window and than started on his Bible passage. A tear rolled down his right cheek. He wiped it off, and started reading again. Reading, Praying, & Hoping.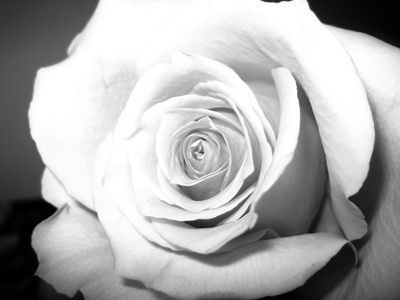 © Kimberly C., Houston, TX