In Memory
February 3, 2012
As Tom Brooks watched his wife take her last breath, a tear rolled down each of their faces. And for that last moment Tom had with her, he already felt alone. As he let go of his wife's still hand, she took his phone and called his daughter. The only person he had left in his life to lean on.

As Lucy Brooks boarded the R train to 14th street people stared at her. She was still wearing her pajamas. And had her bright blue Urban Outfitters headphones resting upon the birds nest that some people called her hair. She was a sight to see. But as Lucy looked around to meet the eyes of all these people staring at her, she didn't think about what she was wearing, she thought about the reason she was there. The reason she was on the R train at 8 am on a Saturday morning. Lucy thought that all these random people boarding the train with her, knew that her mother died this morning. She thought they knew that she was on her way up to Beth Israel Medical Center one last time to see her dead mother's body lying in the bed she had spent the last three weeks of her life in. Lucy thought that everyone on that train with her, knew her story.

But reality was, all they saw was a teenager up early in the morning, dressed like she had just rolled out of bed, riding the subway. Lucy couldn't take it. She wanted to be alone. So she got out, left the subway, and took a cab. After telling the driver where to go, she sprawled out onto the dirty leathered seats in the back of the cab. Lying there, she thought about her mom. Lucy remembered those videos she saw of herself as a baby sitting on the bathroom countertop brushing her mother's wig. She remembered when her mother broke her leg 4 years ago. How she would go to the hospital after school and sit with her mom, drawing palm trees and stick figures. Lucy remembered more recent TV dinners at the hospital, watching How I Met Your Mother, while eating sorbet and drinking lemonade. Lucy and her parents would never talk to each other at the time. They would just sit, eat, and watch. And for those moments, that's all they had needed. To be together.

Lucy also remembered the last time she saw her mother alive. She had been visiting the hospital after singing class. Lucy and her dad, Tom, were watching Jurassic Park 3. Lucy's mom had been sleeping. After finishing the last scene of the movie, where the parents find the boy and the family is reunited once again, Lucy decided to head off. She walked up to the hospital bed and knelt down to her mom's level. Gave her a kiss and told her that she would talk to her soon. Her mother didn't reply but just opened her eyes and then closed them once again to drift off into another nap. But that's all that Lucy had needed to keep going that day. Her mother had been fading more and more every minute. And that little flutter of her eyes opening meant that her mom had acknowledged her existence. That was all that Lucy had wanted. To be acknowledged by her mother just one last time.

The taxi driver pulled towards the front hospital entrance. Lucy threw the $20 bill she had been gripping in her hands at the driver and ran out of the taxi. Not even acknowledging that the cost of the ride was actually 10 dollars. She made her way to the door and ran inside of the building. As she waited for the elevator to arrive, Lucy thought to herself about the strong wall she should put up at this point. She thought that by the time she went into the hospital room, her dad would be a mess. So Lucy prepared herself to be strong, to not break down, and to not show her emotions. She marched slowly into the dimly lit elevator and pressed '15'. She was ready.

It seemed like hours to get through 15 floors in that elevator. All Lucy could think about was how many times she had prepared herself to be like this. How many times she would think about how other people saw her and how other people would think if she showed her emotions. Lucy had been putting up this wall for so long, she didn't know how to take it down. But as she reached hospital room B and walked into see her mother's dead body. The wall crumbled to pieces. All Lucy could see in her mother's face was pain. And for that moment, Lucy felt her mother's pain. She felt the long hours of surgery, and the gallons of medicine racing through her mother's veins. Lucy felt her mother's fear of losing her family and everything she's worked for due to cancer. And as the fear came into her body, it left as quickly as her mother had died just an hour ago. Lucy unfroze from her position, knelt down to her mother's dead body, and cried.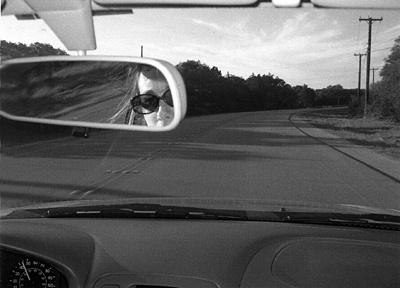 © Roxanne D., San Antonio, TX