Ellie's World
January 17, 2012
Aa Bb Cc Dd…
Those were the very first things I saw when I walked into my first day of kindergarten all those years ago. I was only a little five-year-old at the time. My brown hair stuck out in all directions from under my blue baseball cap and there was already dirt on my pants.
As I walked into the room with my mother trailing behind me, all heads turned in my direction.
"You must be Ellie! How nice to see you dear! Won't you sit down?"
Mrs. Applebee sure sounded nauseatingly enthusiastic, I thought, but I could see right through that. I knew that the last thing my new teacher wanted was for me to be in her classroom, let alone sit down. Her cold eyes said it all.
My mom, however, ate it right up. "Be a good girl today Ellie," she said. "Don't tie the teacher up!" Mrs. Applebee thought she was joking, but my mom knew that I probably would tie her up, first chance I got. I, for one, was not going to let on anything about the plot that was slowly forming in my mind. So I just smiled up at my mom sweetly and asked, "Now why would I ever do that?" But under my breath I added, "Especially when I've got something much better planned?" Then I kissed my mom goodbye and she was gone. Sweetly, I turned away from the door and toward my new target: Mrs. Applebee. This was going to be the best. Class. Ever.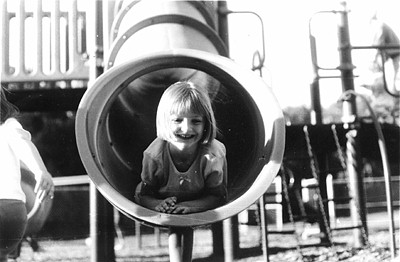 © Jessica M., Marblehead, MA