the dad i never had
January 20, 2012
Natalee was over in the corner while Nikki and Cindy were jumping up down with glee. Natalee was shy about meeting new people meeting a new dad was hard for Natalee because she didn't have a dad growing up. Sh been e was afraid something would happen like her new "dad" would cheat on her mom, like her last dad did.

On our way to the restaurant Nikki and Cindy were talking about him. I was more concerned with other matters like if he would be nice to me and if he would be a father figure. WHAM we were there I held my breath as we went into the restaurant. The waiter had asked for the last name my mom had said "arbino". I had said shocked. Albino mom, really? Could he have had a worst last name? This was my future last name I think I should have a say in the last name picking next time. We followed the waiter to a tall booth at the top of the stairs I saw an old man and thought we were going to pass him up and go to the attractive thirty year old sitting in the next booth. But no we had to stop right in front of the old pudgy man. He looked all wrinkly he was chubby and tan he had an elongated face.
"Mom I said, this guys old"
She replied in a stern but kind tone "that's not nice"
"But its true."
"And he's ugly."
"Sit down," mom said
"Hi Bud, these are my girls Nikki and Natalee," Cindy told him
"Hi how old are you"
I answered in my usual quiet tone " I am eight "

"And how old are you"
Nikki answered, "I'm twelve"
We were very quiet until he started asking us questions. It was like police was interrogating us. We ate like we hadn't eaten in like a year. We stayed there for a little while longer and he told us stories and how they met. After that we went home and bud stayed and talked to mom. While he was talking to mom Nikki and me talked about him. We were saying how we thought that he was funny and really nice we realized that night that our mom had found someone that she really liked who treated her like a princess. She had never been treated like this before. We also realized that this would be our new dad if we told mom that we liked him. We sat in Nikki's room while they said goodbye. After Bud had left we went out into the living room and my mom asked if we liked him.
We said "well first we have some questions for you."
"Okay well what are they and I'll do my best to answer them."
"First question do you truly like Bud?"
"Well I do like him because I know he will do good things for us and he will be there for you."
"Second question how long have you been seeing him and why haven't we met him before today?"
"Well we've been seeing each other for about two or three months. You haven't met him before today because I wanted to make sure that he would not be like your dad."
"Okay that's good enough for us we were deciding whether or not we liked him while you guys were saying good-bye and we have good news and bad news the good news is we like him the bad news is we don't like that he's so much older than you and that he pinches your ear. That's not very cool, it's actually painful"
"Okay well I'll tell him that you guys don't like that he pinches your ears."
"Okay well when are we going to see him again."
"Well I was thinking of going on another date with him next Friday do you want to come?"
"Of course we want to come if this is going to be our future dad we have to get used to him don't we."
"Well yeah if it works out I guess you do have to get use to him."
"Are you gonna marry him mommy?"
"Well I don't know I have only been dating him for a few months."
After that conversation we would go on dates with Bud and my mom every other Friday.
They have now been dating for six years. Nikki and me hope they will get married so he will be our dad.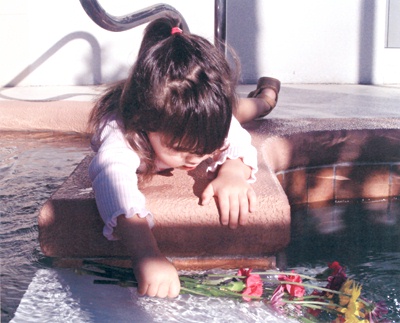 © Courtney C., Palm Coast, FL