You Can't Buy Love
January 16, 2012
The first few years of my life had the greatest affect on me, even though those years were vague. My mother Lily had an affair with a white man, who was married with children; she wasn't aware. When mama found out she was pregnant with me and told my father, he said that he didn't want anything to do with her anymore. He couldn't stand to have his reputation ruined and his family broken up because of a black woman and his fooling around. I was a few months old in mama's womb when she finally told him, and I think that I developed my hearing by that time. I don't believe I heard the argument that my parents had when my father found out I was coming along, but I heard mama weep. When I was in my mother's womb she and I shared the same soul. I felt her heart beat slow down after my father left, and I believe that it stayed that way even after I was born.
Even though I came up as a mistake and mama lost her first love because of me, she still loved me like any mother should. We survived on the little money she had and the first Christmases my only gifts were a few dolls. We rarely went to amusement parks and circuses, and when we did go I couldn't get cotton candy or soda every time, simply because we didn't have the money. But I believed our little money is what made us love each other even more, because love was one of the few things that were free.
Mama had a one-bedroom apartment, and we slept together. All there was in the room were a bed, a night-stand and a brown dresser with torn paint. On the dresser was a man who wore an army uniform. He had dark hair and grey eyes. He looked like a jolly man around his thirties, and his smile was so big and bright in the picture. Sometimes in the middle of the night I would hear mama weep and she would be holding that picture. One night I woke completely up because her crying awakened me. My small hands wrapped around her and I asked her why she was crying. She shook her head and pointed at the picture. She said, "I loved your daddy. I loved him with all my heart Emma Mae." I didn't know that I even had a father until she told me that. Everyone I knew had a dad but I thought that I was an exception. And if I did have a father of some sort, it would have never occurred to me that he would be a white man.
I remember that when we went out, often people would stare at us. I didn't understand that it was wrong for me to have a black mama and a white daddy. Restaurant owners and store owners wouldn't even let us come in their place. They would point to the "WHITE ONLY" sign. Sometimes my mother would try to take advantage of my race and would tell them that she was my nanny, and that I belong to white parents, and she would send me in with the few cents she had for food. Other times she was tired of lying and the hurt and would just tell people that I was her daughter. One time a white man spat on her and called her a dirty dog. I loved mama though. I loved her caramel skin and kinky hair; she was the prettiest woman in the world to me.
Last time I saw mama alive, was when she dropped me off at my Aunt Tot's house. She gave me a kiss on the cheek and told me that she was coming back in a few hours. However a few hours later were when the Dallas Police Apartment came up to Aunt Tot's house. My mother died in a car accident. My four year old heart was too young to comprehend what happened. Aunt Tot cried and cried, I cried because I was scared. My aunt was strong, and if she cried, then there had to be something seriously wrong. We both cried so much that we became sleepy. When I woke up, instead of my mother holding me, it was my aunt. She had tear stains on her cheeks. I used my small fingers to wipe them away and that awakened her. She looked at me then cried again. She told me, "You have to live with me now, Emma Mae." I shook my head no. "Mama is coming back to get me." I said.
Mama never showed up. The next week Aunt Tot put me on a black dress and church shoes and she tied a bow around my curls. She was wearing a silk black dress and red lipstick. I never saw her look so beautiful and sad at the same time.
We walked to the nearby church and all of my family members and neighbors were there. Heartbreaking music was playing and everyone was walking to the front of the church. I saw no happy faces; I thought everyone was supposed to be happy at church. Aunt Tot and I followed everyone and walked to the front of the church. There was mama, lying in a beautiful silk bed dressed in a beautiful white gown. In her hand held the Bible.
"Mama," I cried "Mama you didn't come get me. I'm ready to go home now mama…"
I patted her on the cheek, I never felt her so cold "Mama, wake up, wake up! I wanna go home!" I cried and cried.
She didn't open her eyes. I looked at her and I didn't feel her warmth or her soul. There she lay, beautifully sleeping, dressed in the most expensive things she ever wore. But you can't buy love.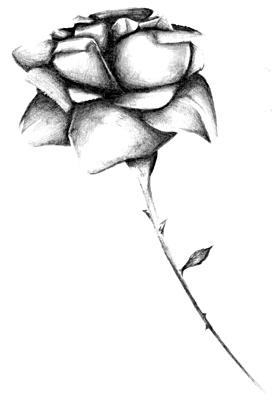 © Yisrawayl G., Philadelphia, PA