Perfect Night
January 17, 2012
Late in the morning, we all arrived at Macy's in our sweatpants, hair tied, and no make-up on; acording to Drake, we were at our prettiest. But tonight, we were going to prove Drake wrong. We took off our peacoats and slid our snowy boots onto the floor mat, running up the stairs in our black Adidas socks. Taylor sprawled her make-up all over the floor and revealed to us every single shade of eyeshadow in the color spectrum along with nail polish, eyeliner, mascara and lip gloss. As we picked through the dozens of bright pinks and translucent blues, the smell of curling irons and straighteners filled the open living room.

We lined up in chairs: Macy, Claire, Taylor, Shelby, and then me. The girls already had their hairstyles picked out, so while they were getting dolled up, Shelby and I paged through the silky, glitter-drowned pages of January's Seventeen. She decided on a curly, poofy bun, and I decided on a half pulled up look, held up with a rhinestone clip shaped like a bow, straightened because Mason made a point to tell me he likes it that way.We drank Cherry Coke and watched Glee on Netflix while Macy's cousin, the cosmotologist one, finished our hair. Since mine didn't take long, I began to put on my foundation, mainly to the white circles around my eyes caused by the cheap-o winkies I used while tanning for the last month and a half. Next I applied the metallic silver eyeshadow, along with the jet black eyeliner, thicker than ever for this occasion, and mascara. I finished with clear, slick lip gloss and rose blush.

3 hours had past when the girls pulled their socks off and began to paint their toenails to compliment their open toed heels. I went to change; I couldn't wait any longer. Out of the navy blue clothing case, I pulled out my knee-length, pleated, electric watermelon strappless dress. It was my first time zipping up the perfect form-fitting cocktail dress since I had tried it on in the Express dressing room, back when I was pale and hadn't bothered shaving my legs in a week or two. Now, on my clear, faultless tan skin, it looked about as good as it did on the photo-shopped online model. I slipped on my silver, glittery, 4-inch heels, and walked out to the living room.

Step by step my heart beated fast. I love the attention, but I hate being the girl that looks like she wants the attention. At this moment, none of that mattered. I towered over the two posts on the varisty basketball team. I out skinnied the skinniest, most beautiful girl in the entire class. My hair laid perfectly down my shoulders, an inch past the top of my perfectly pleated dress. The girls and the moms all stared, jealouslessly, at me, and only me. I was the first today to look like a princess.

They all shreaked with joy, with no hostility in the air what-so-ever. I couldn't help but smile and show off my Crest whitened teeth. The compliments were great, but there was only one opinion for which I cared.

I mentally checked off every piece of my outfit, and came to realize I left my garter in the room where I changed. I elegantly stepped, not too fast and not too slow, to retreive it. As I got back into the room I couldn't help but glance again; it's not every day that I actually don't mind looking at myself in the mirror. I couldn't identify a single flaw. At 3:08pm, I heard the doorbell ring. There in the doorway he stood. 6' 3", dressed in a black tux with a white shirt, gray tie and pink vest, smiling. The most handsome boy I could ever recall laying eyes on. My best friend. My boyfriend. My date to the dance. Standing in the doorway.

There he stood, silently. I was silent, too. He smiled, I smiled. But for a good block of time, there were no words spoken. Neither of us could come up with anything to say. I took 5 steps to his level. He pressed his lips to my ear, and finally broke the silence. "You look, beautiful," he said. And at that moment, I could tell it was going to be a perfect night.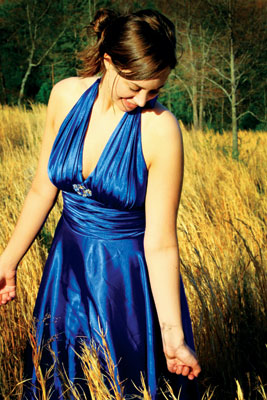 © Michelle B., Blairsville, GA