"My Emo Angel"
January 11, 2012
He was perfect; no one could have asked for a better best friend or boyfriend, for you see he was both to me. Hi, my name is Samantha and this is the story of how I received my very own guardian angel. His name is Trever James Anderson and he was, and to me still is, the hottest emo boy that has ever lived. Trever was my best friend since I was 3 yrs. old and he knew everything about me and vice versa. Of course like most girl/boy friendships would have it we ended up dating; unbelievably it worked out and we would've been together an entire year on October 30, 2010 if not for his death, but for you to understand that I shall take you to the beginning of that fateful day by explaining some of his personal life.


You see Trever, or Trev as i called him, had a rough home life which is why he was emo in the first place. In just 3 yrs. time he lost his mom to alcohol, his dad beat him nearly to death twice, his big brother Sam died of a drug over dose, and his last girlfriend cheated on him with his best friend. So as you can see, Trev didn't have the best life in the world, but according to him he had his Angel(that's what he called me) and that's all he'd ever need.

One day I was at my friend Candace's house and we decided to go shopping, on that very day Trev's dad got fired from work due to him being late twice that week. If not for Trev missing the bus because he couldn't find his favorite black hoodie(which he used to hide the scars on his arms) then his dad never would have been late therefore his dad decided to take his anger out on Trev. I was on my phone all day talking to my brother Richard and my friend Carley, but never spoke to Trev because he was out of minutes until his aunt got off work that night around 6 o'clock. Around 3 that afternoon my phone died and since we were in Hattiesburg I had no way to charge it until we got back home that night, which i later realized would be far after 6. Little did I know that I would need my phone more than ever that day.


When Trev walked in the door his dad let him have it. " Trever James Anderson! DO you see what you've done?? Do you see what you've caused me?" yelled his dad and as always Trev stood there and took it. He continued " I've worked my ass off and how do you repay me? HUH?!? You repay me by getting me fired from my job!! You ruined this for me just like you've ruined everything else in my life!" At this point Trev had uploaded the minutes to his phone and was scrolling down to my number hoping to seek refuge with me since he was allowed to come to my house whenever his dad got like this. No sooner than he clicked the 'message' button on his phone his dad yelled,"Yea go on and call that little slut you call your girlfriend, but the reason she won't answer is because she's just like everyone else. She never loved you!! She only used you to get what she wanted" Then Trev ran upstairs calling and messaging me desperately trying to find a way out, but since we were still in the mall I had no way of knowing.


On the way home Candace looked at me and playfully said " So girl how you holding up not being able to talk to your baby?" I smiled and pushed her out the car as soon as we parked. We ran in the house and I immediately turned on my phone and put it on charge, then I started to check for missed calls and messages. What I found nearly killed me. I had 10 missed calls, 25 text messages, and 1 voicemail all from Trev. At that moment i knew something was wrong. I slumped down on the bed and Candace sat beside me with her arm on my shoulders reading my messages with me. They were all filled with desperate pleas for me to answer him and to please let him come over to escape from his dad; with each message I read i felt guiltier and guiltier and suddenly I HAD to check my voicemail. What I heard when I did still haunts me to this day.


Ever so softly Trev said," My Angel i love you and always will. I don't know why you have left me on the day that i needed you most, but no matter I must say to you now goodbye my love, forever. I shall see you again when we are both angels." The tears that slid down my face only flowed hotter and faster with every word I heard my beloved speak and by the end I knew he was gone. Without hesitation I dialed his aunts number and without even a hello she began to speak.

" When the police came to unlock his bedroom door," she said with what must have been at least a thousand tears in her throat, " they found him lying on his bed with only 4 things near him. He was holding his favorite picture of you, was wearing his black hoodie, had his phone lying on his chest, and a knife was on the floor by the bed as if he had dropped it." At this i let out what must have sounded like a death scream for Candace's mom came running in the room and just stopped seeing Candace crying, then she looked at me and must have subconsciously understood, for she walked out and closed the door leaving us to our own pity. His aunt then continued "Samantha, dear, he's dead. Our sweet Trever is dead. He slit both his wrists and therefore bleed to death. Honey I'm so sorry. I really am; I know how much you loved him"


No matter how much i tried i couldn't control myself when she told me this and neither could Candace. She helped me immensely by sharing my sorrow and sharing my pain throughout that night and all the days that followed. Never will i be able to forget the day that I lost my beloved Trever because he's still here in some ways. If i happen to hear a certain song or read a few words that remind me of him it's as if hes really here. I get warm feeling at times sort of like a hug as if he still hasn't let me go and i still see him in my dreams at night. For I know that the day I lost my beloved Trev, I gained a guardian angel.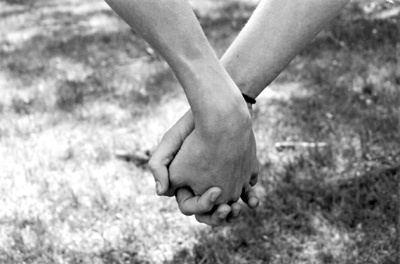 © Alexa T., Pompton Plains, NJ