Dangerous Games
January 10, 2012
Finally the smoke cleared and I could see her, slouched against the dirty cement wall. Her tiny hand clutching on to the bleeding wound. The beautiful dress, which she had once chosen as her favorite, was now covered in red stains. And the blue ribbon that mother had tied in her hair just this morning, was no longer there.
I wanted to scream, to run up to her and tell her that everything was going to be okay. But I couldn't. The pain had chained me to the ground and there was no way of escaping it.
The distant sound of a gunshot made me wince and I began to remember how I got here.
"It's no big deal. I swear!" Julia said, skipping down the road. "We just give them the package and then we can go to the movies."
"I don't know. Do you even know those people?" I asked as I followed her down the road and up the path to the park.
"Yes! Well no...but, they are my brother's friends, I'm sure we can trust them." I nodded. I didn't want to fight but, I didn't want to get into trouble either.
"So what's in the box?" Julia shrugged.
"I don't know, maybe baseball cards?"
I let out a quick groan and continued to follow my best friend Julia. We were going to the park to pick up my little sister Allison, I had promised mom that I would babysit her for the day and let her off her mom duties for just one day.
"You know we have to take Allison with us right?" I said and awaited a reply but, all I got was a mumble and a quick nod.
By the time we had got to the park, the sun was beginning to set and most of the kids were already gone. I spotted Allison sitting alone in the sandbox, smiling at something I couldn't see, an imaginary friend perhaps? As I came closer I heard her giggle and whisper something so quite that not even God could hear. It didn't take long for her to notice me, and soon we were making our way to the place where our lives would take a turn for the worst.
The sudden sound of a piercing scream snapped out of my flashback. I needed to get out of here, to pull all my strength together and leave before it was too late. All I had to do was stand up and make my way to Allison and I'd figure the rest out later. That was all I had to do. But before I had the chance to stand up, sudden warmth took over, and for a second I thought everything was going to be alright.
I never knew death would feel so nice, so warm and so promising until now.
It was all but a mistake, a deal gone wrong. It was a dangerous game with three lives lost.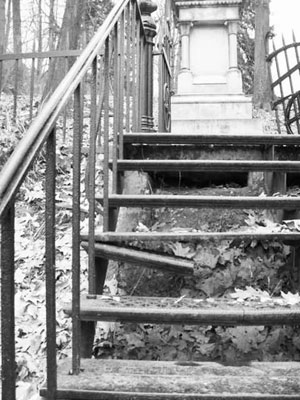 © Ginamarie D., Rochester, NY