A Walk in the Woods
January 10, 2012
John closed down his laptop, and kicked back on his computer chair, laying his feet on his desk. Being a successful stockbroker wasn't always easy, reading market forecasts, rolling news feeds, and slowly watching the stock prices go up, all day long could get very tiring. But earning several thousand dollars a day… John slowly smiled, it was worth it. He could not wait for the year end sales, where surely the market would soar, but the holidays; he was not looking forward to, where he will be invited to the family reunions. Long hours where he could be strolling around in a Porsche dealership , were wasted on crying babies, moronic cousins, and cheap food from the nearby Wal-Mart store. John's mood went sour.
He pushed open the back door and walked across the wide porch of his historic, Victorian home. John exhaled deeply, seeing his breath in the prickling cold. He looked at the woods that stretched behind his house, seeing the tall birch trees reflect the light of the dawning sun. John pulled his cashmere jacket tightly around him, looking at the colorful leaves that would soon fall from their tree, leaving it to grim, gray bones. Autumn was fading away, and winter was quickly approaching.
The woods were quiet and still, and as John watched, a light breeze rustled and swayed the trees. It seemed as if they were beckoning him to come closer. "Just a quick walk," John thought, "I'll relax a bit."
John's feet crunched and snapped twigs and branches, hidden by the dying leaves on the forest floor. He could smell the moss, moist, and leaf rot heavy in the air. John continued, drawing nearer to a small, tinkling creek. John winced and grit his teeth as he stepped on a splinter inside his sock. He bent down and lowered himself on a nearby rock, taking off his shoes. He shook off the annoying dirt and small rocks, then, everything went in slow motion…
John's eyes widened as he felt a swift, acute pain in his left leg. He could feel the venom coursing up through his veins, towards his heart. John fell limply to the soft pile of leaves, taking quick and shallow breaths. John reluctantly glanced down at his calf, seeing his tan, woolen trousers coated with his rich crimson blood. It was becoming harder for him to stay focused, his vision kept blurring, but he fought hard to stand a few more seconds. John saw his life, from a little boy, with his mother and family, playing together in their backyard, to a grown man, shunning his relatives, refusing to participate in any part of their lives. These scenes from his life flashed by and by then slowed, as John's eyes lay still in their sockets.
Now the moonlight brightly lit the leaves and the trees in the forest. Close by, a coil of brown diamond tattoos slithered back under the leaves, and wrapped itself firmly, prepared for the cold, and chilling night.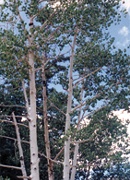 © Bethany D., Philadelphia, PA