The Fifth Commandment
November 30, 2011
"Wake up, Abigail. Time to get ready."

Her mom stood by the door to make sure she woke up. Abigail sat up and she accepted that she was awake. She sat for a while and ruffled her hair. Once she felt as awake as she would ever get, Abigail rolled out of bed and changed. She looked around her room and gathered up what she'd need for the day; textbooks, notebooks, calculator, pencil case. She walked out of the room before remembering one thing, a paper crane.

Abigail sighed and went back to pick it up from her bedside table. She looked at it a while. It was pure white and perfectly made. Each fold was crisp and sharp. She had made it last night with her father in mind.

Finally ready to go, she left to eat her breakfast. She ate quickly without noticing what she had grabbed. After she had put everything away she went into the living room to wait.

In ten minutes there was a knock at the front door. She opened the door and saw her father.

"Good morning, Abby. Are you ready to go?"

She mumbled her reply and followed him to his car. On the way to the hospital, her father did most of the talking, with the occasional short reply when needed.

When they arrived Abigail followed her father to find out which room he would be in. They met with the receptionist and her father filled out some paperwork. They were then led to the second floor where he would be staying. A nurse came up to them and weighed her father. They were again led down a hall to her father's room, 213.

"Now please put on the hospital gown, you can change in the bathroom. I'll be back when you're ready."

The nurse left them in the room.

"Are you gonna leave now or-?" Her father asked.

She nodded, then remembered the crane. She pulled it out of her pocket and handed it to him. It was still perfect and blank.

He smiled. "Thank you, Abby. I was feeling a little nervous, but now I have this to focus on. Thank you."

Her father hugged her on the way out. She forced a smiled, wishing him luck. As soon as her back was turned her smile fell. She left the hospital and drove to school.

She went through a normal day at school, never mentioning her father. When the final bell rang, she wordlessly dodged her friends and immediately left school.

She drove to the hospital with rising anxiety. She entered and headed for her father's room. With each step her dread rose. She opened the door.

Her father sat up in a chair, watching a football game.

"Hello, Abby! How was school?"

She hid her feelings with a smile. A nurse came in with a wheelchair and helped them out to the car. Abigail listened to her father as she drove around to do some errands. She brought him to the pharmacy for his pain medication and picked up some soap and shampoo. At the grocery store, she patiently followed him up and down each aisle and did the heavy lifting. They finally got to his house and she helped him put away the groceries. She did some little tasks for him before hugging him good-bye.

On the way to her mom's house, she stopped by the lake. She got out into the cold and looked up at the stars.

Abigail started crying.

Her father was alright.

And she had wanted him to die.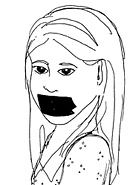 © Liza M., Vineland, NJ