There You Are!
January 8, 2012
My feet were tired, and my hopes were crushed. I walked along the sidewalk, trying to find my way there. Cars drove by, I got splashed with mud. My peers threw sticks and stones at me. I continued to walk. I needed to find my way. I had to find him.

I walked past the local convenience store. The drunken fools outside whooped and hollered as I passed, a woman they could "tap". I simply rolled my eyes, for they had no idea what was inside of me. I looked down as they continued to jeer at me. There was a penny looking back at me. I could've sworn I saw the small copper eye of Abraham Lincoln wink at me. I smiled when I bent down to pick it up. I rubbed it between my fingers while walked. I had to keep going. I had to find him.

There were children playing in their yard down the street from me. It seemed as though time stopped, for their ball fell to the ground and I felt like their eyes were glued to me, this freak dripping in dirt and blood. I looked over at them, and they started talking amongst themselves, using the stereotypical little kid "whisper". I heard them. They wanted to know who I was, WHAT I was. I wish I could've told them, but I needed to find him. I had no time.

I walked through my front door, the layers of muck sliding off of me. My dog greeted me with the same smile and bark he'd greeted me with every single day. I looked into the mirror in the hall.

"There you are!"

I found him.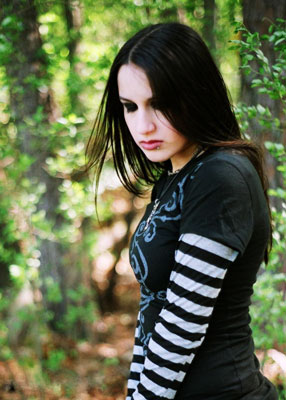 © Rebecca B., Marietta, GA