New Friend
January 3, 2012
She opens up her bright, round eyes in shock as I come at her, weapon in hand. She lets out a girlish squeal and closes her eyes, and I just ... stop. She cautiously opens one blue eye and then another. I sink to my knees and clutch my forehead. Is this what I have become? This... monster? Slaughtering children? I drop the knife in my hand start to cry. 

The young girl looks at me strangely, "Are you okay mister?" She says in a voice so sweet it causes me to let out another round of tears. She stands up and walks over to me from being curled up in terror in the corner of the room. 

"Mister, I won't tell anyone, I swear."

I sniff, shocked, "You won't?"

"Well, you didn't actually hurt me."

"But I deserve to be punished."

"Don't you think guilt is punishment enough?"

"You should leave."

"What's your name?"

"Lou, Lou Clark."

"Well, I'm Sally Reid."

"You should really leave."

She shrugs, "Okay, but you be good now."

I smile, "I will."

*****

"Hi Mom."

"Hi Sally, what did you do today?"

"I made a new friend."

"That's sweet, would you switch the TV to channel 8, for the news?"

"Sure Momma." 

She clicks the button and the news anchor flashes on, "This just in, known murderer, Lou Clark, walked in to local police station and committed suicide by shooting himself." They flash his picture.

Sally's eyes widen, "Hey, mom, my new friend's on TV." Her mom walks in, drying a dish, which she drops when she hears about her daughter's "new friend". "Mom, what does it mean to commit soo-i-side?"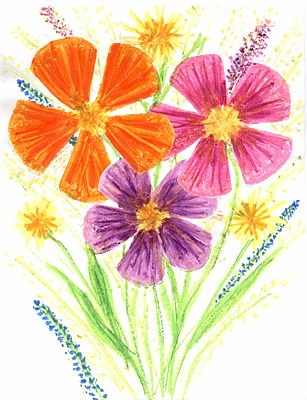 © Marissa M., Rockford, MI