Surfing At Dawn
December 19, 2011
Amigo and Diego lived along the Pacific Coast in Huntington Beach, CA. They were both in the 7th grade at Coast Middle School. The school year had just started for these best friends, but they had their mind on something else; it was on surfing. Diego's and Amigo's fathers were best friends themselves and world class surfers throughout the 90's. When Diego and Amigo were born, their fathers agreed to train their children to become world champions in surfing. Thirteen years later, Diego and Amigo maintain their training and dedication to the sport.

Diego and Amigo were more than just friends. They had known eachother since they were born. They were a unit. When Diego smiled, Amigo smiled as well. When Amigo was hungry, Diego was hungry. In a way, they were family.

The school year had put a big obstacle in the time that they had to surf. School ended at 4:30 PM, and it quickly would get dark out, making it dangerous to be in the ocean. So, the boys decided they would surf every day before school. Diego's Dad once told the two boys about how he and Amigo's dad would pack up and hit the waves right at dawn.

"An old legend once said," Diego's dad would whisper," that the best waves are when the sun is just creeping through the horizon."

Both Amigo and Diego thought It would be cool to continue their fathers' tradition. As they packed up Sunday night, they looked online if any swells were coming in the next day. It was supposed to be calmer tomorrow, which was a relief to them since this was their first time surfing in the early morning without their parents looking over them.

"RING, RING, RING." Amigo's phone rang waking up the boy.

"You ready man, it's already 5:30 A.M." Diego remarked energetically.

"Yeah man, let me just grab my stuff," Amigo responded half asleep, "I will meet you outside in 5 minutes."

As the boys walked along the boardwalk heading for the spot they were planning to surf, they noticed how beautiful the water looked. The rising sun, made a red glare along the water while white waves crashed down along the California sand. No one was in the water at the time, only a few runners jogging up and down the beach.

The boys took one last look at the water before rushing in with their wetsuits. They ran in, letting their momentum guide them out to the deeps. The water was warm and rejuvenating. As they paddled out to the deeps on their boards, they kept their heads down since the rising sun was too blinding. They saw tiny fish swimming through what looked like red lava, but was really just the warm California ocean water. Small waves crashed around them, gently tossing water onto the boys.

They were deep enough now and begin to wait for the first wave to take in. Diego decided to unstrap his board from his ankle to swim a little underwater. "It was simply too refreshing," Diego would say about the water. Amigo calmly looked about the horizon as sea gulls passed overhead. The boys were so intrigued by the tranquility of the water, they forgot about everything.

"Your board! Diego, Your board," Amigo screamed to grab Diego's attention.

Diego's board was being swept out to sea extremely fast by a rip tide that had just formed. Diego sprouted up from the water and looked around for the board, realizing how deep it had gone. It was almost past the roped off area that was restricted to go past. Diego looked stunned that he could lose track of his surfboard

"Man just forget about it dude. That was your bad one anyways, right? We will just head back to the house to grab another one," Amigo calmly stated already motioning towards shore.

"No I can't"

"Why not?" Amigo asked confused

"That was the Caliber 82."

Once Amigo heard those words out of Diego, he almost started crying in fear. The Caliber 82 was Diego's father's most prized possession. He won 6 International Championships on that board and had just recently let Diego start riding it.

"Go, Go, Go, Get it!" Amigo screamed turning around as he started swimming as fast as he could in the direction of the board.

Diego was deep now, way past the restricted rope, as Amigo trailed behind, much slower. Diego was close to the board now, very certain to be able to snatch on to it and ride it back.

Then out of the corner of Amigo's eye, he saw a fin.

"DIEGO! COME BACK!" Amigo screamed with all his might. "SHARK! SHARK!"

"Wha…" Diego attempted to move, but he was now underwater with a shark attached to his leg. The shark had taken him down.

"No!" Amigo screamed as he paddled toward the stranded boy. Nothing else mattered in Amigo's mind but to get the shark off of Diego and return him to shore. Within seconds Amigo was within feet of the shark and Diego.

Amigo threw punches, kicked the shark's body, and tried hitting the shark's eyeballs. He could barely see due to the redness of the sun. He saw Diego underwater screaming with pain and fear. Eventually the shark let go and Diego came up for a breath. The wounds were not as bad on Diego as they were on Amigo. While punching the shark, Amigo received a massive gash on his forearm, and he was losing blood fast. It was time for Diego to be the hero.

He put Amigo on the Caliber 82 which had a chunk taken out from the shark's blows. Both the boys were in shock; Diego was in disbelief that he even survived. Amigo saw how much blood he was losing which mixed into the what seemed like a red ocean. Diego noticed Amigo going in and out of consciousness and began to cry. He was scared that his hero wasn't going to make it.

The two of them got on shore and Diego laid the wounded boy down. He could see just how bad the gash really was as the blood soaked into the sand. Diego's worst fear was coming true. Then Amigo popped back into a hazy consciousness, and saw Diego applying pressure to the wound.

"Diego," Amigo stated silently, " It was… worth… it… for you."

Diego, barely making out the words, responded, in panic, saying that "you'll be fine." And "I will get you out of here."
Amigo didn't listen, he knew that the end was coming and he was calm. Diego still cried with his head on Amigo's chest. His best friend gone; Diego didn't know how to handle himself.

"Why is this happening?" Diego screamed loudly getting Amigo's attention.

Nothing else mattered in the world except for Diego being with Amigo. He watched his hero's last seconds as more blood poured onto the red sand.

"Don't… Worry…" Amigo whispered into Diego's ear, "I bet… the… waves are… pretty… good… up there."

Those were Amigo's last words.

The sun was high in the sky now and as it shined brightly onto Amigo's face, Diego noticed a slight smile upon Amigo's face. His hero was sleeping.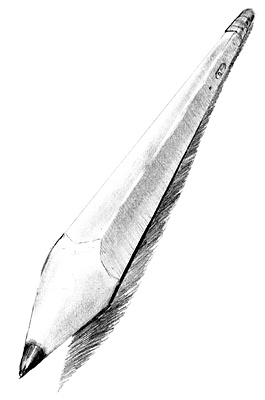 © James H., Philadelphia, PA