Love, Gabe
December 9, 2011
My thoughts were so loud that day; I just couldn't keep them inside my mouth.
"Mom, I'm gay. I like men," and the regret hit instantly. You sobered up for a moment before turning to extremes. Shock widened your eyes, casting you as the deer to my headlights, and then you snorted, let out a wheezing sound that stopped just short of a cackle. You thought I was joking and laughed. Maybe you had the eyes, but I was the one feeling wounded. My chest tightened, and I felt my eyes water. Great, I thought, as if I wasn't already a big enough disappointment, and I wondered if it was too late to take it all back.
Instead, I bit my lip, inhaled, and repeated myself, pleading, "Mom? Mommy? I need you to answer. I need you to tell me it's okay." You stood, mouth gaping, and I added a pitiful, final plea. All I said was please, but by then you'd regained the power of speech, if once again at an extreme. This time, it was scary.
Your face contorted to a hardly recognizable caricature, anger invading and smothering whatever maternal instincts I'd intended to draw out. I couldn't make out the exact words you screeched at me, but the message was clear: it was anything but okay. You'd regained more than speech, though, and as the first dish crashed merely six inches to my left, I began to regret approaching you in the kitchen. Suddenly I was dodging flatware, the image of some twisted Frogger game, and the cars were coming too close. I broke for the door and shut it behind me. A few more kitchen items beat against it, and then I heard you give up. No, that's not accurate, because for a minute or so you were silent. I guess I felt you give up, and then lost in my efforts to best an emergent sob.
I would later learn that, after the last plate shattered behind me, you grabbed the bottle of wine you'd been cooking with, sunk to the floor, and wept. Often, I've wanted to call, if only to hear your voice. Even now, I'm quaking at the thought of it, split between longing and fright. I know I won't be able to call; I'm not that courageous. On one level, I hope you've let go of me, that you're living your life peacefully, without the poltergeist of my shadow. You thought you were a failure as a mother, and I suppose that's the part that gets me most. You probably still think of yourself that way, Mom, but it's not true. This is simply me. I would have turned out gay no matter what.
My more vengeful side wants you to forever remember me as the boy who destroyed. The one who failed you. I -hope you sit up at night, thinking about just how much you miss me, embarrassed and desolate. I hope that when you look in the mirror, you count the worry lines I've caused you and weep, realizing I'm not all bad. I'm sorry for doing that to you, but I just can't hold on. Please never forget that I love you. I'll love you even if I never see you again.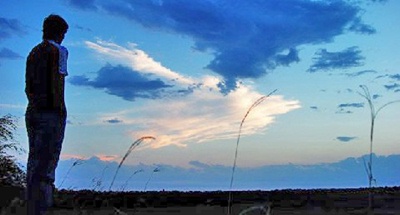 © Stefanie K., Katy, TX