Skin and Bones
December 9, 2011
When people ask me why I don't want to eat, I give them no answer. They will never understand me, not ever, so to answer would be a waste of words. The physiatrist tells me I'm in a shell, that I need to come out of that shell and tell her how I'm really feeling. If I am in a shell, I will stay here forever. My friends all stare at me, my family weep over my boney body. I hate everyone, but most of all, I hate me.

I used to cook lots, but never eat what I cooked. People would think it was strange, but then their greed would overtake them and they would eat everything. To be honest, I hate food. Of all shapes and sizes, it disgusts me. I only cooked for the control. When I cooked I felt on top of things, orderly, it felt like I was free. I loved to cook cakes, because they looked so pretty. Yet, try as I might I could not bring myself ever to eat them. People did not mind, it meant more for them.

When I think back on my life, I like to lie about it. The truth is ugly, and my lies are beautiful to me. So I pretend. Living in this little world of pretend, in this shell of mine, I am safe. I pretend I have parents who love me, friends who care about me and a life worth living. I loath reality. In reality I have a dad who hates me, friends who couldn't care less about me and a dull life in hospital. It was not my family who noticed me wasting away, nor was it my friends, it was a complete stranger. This odd boy who had no friends at school, saved my life. Everyone else just kept on saying, over and over 'You're not fat Shelly, you're not fat!' I am so sick of those words. It is as though people think if they say it enough times and loud enough, it will somehow do something.

My dad is made nervous by me being in hospital. He feels I am no longer in is power, that I am escaping him. So he visits everyday, and grips my hand to remind me how strong he is. With the doctors he feels the need to pretend to love me, and he's always going on about it being bullied at school that caused me to behave as I do. I think, deep down, he knows it was him. In fact I know he knows. I could tell the physiatrist that, but she won't believe me. Also, I'm very much afraid of my dad.

I have some friends who bring me chocolates, it's almost an insult. Like combing your hair in front of someone going tho kimo therapy. The girls try to act all motherly to me, because they know I don't have a mother. I can see it, behind their false smiles, they're thinking about what a great person they are for being kind to me. In their mind they're thinking 'I'm so nice, I'm helping an anorexic girl recover' I hate them. They ask me about voices in my head, I tell them I hear none and they think I'm lying. These are people I didn't know at school, people who only cut their eyes at me and whispered mean things about me. Now, they hover by my side, they pretend to be friends of mine. I had no real friends at school, only people I hung out with so I was not completely alone. I was the butt of everyone's jokes, always the last one to know secrets, always the underdog. They hated me, and they still do.

The boys who come to me are nicer. I've always liked boys over girls, they are not as two faced. They sit by me, and talk about themselves. How little has changed. It is almost as though they come to me, to pour their own sad hearts out, rather then to help me. I don't mind it, I like to talk about others instead of myself. For I know, deep down, that I am not a very interesting person. The things that make me interesting could be listed on one page, or less.

They say that beauty is only skin deep, that was my last hope. I have no personality though, and I have no looks. Therefore I am nothing but skin and bones.

Hated by everyone, hating everyone.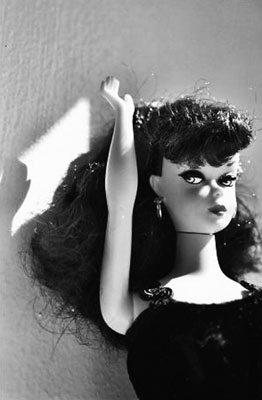 © Carolyn K., White Plains, NY